Zuko's campsite
Comments

13
8,295pages on
this wiki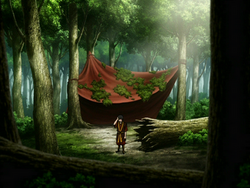 Zuko's campsite
Physical information
Government
Location on map
Zuko constructed a
campsite
hidden within the heavily forested area above the
Western Air Temple
, where he stayed for several nights before proving himself trustworthy and being accepted into
Team Avatar
.
[1]
While hoping to join Team Avatar, Zuko set up this temporary camp near the cliffside using his war balloon's envelope as shelter.[2] Here, he practiced his speech to Team Avatar with a badgerfrog and comically imitated what Iroh and Azula would say if they were in his situation; he finally gave up, stating that he just was not that great at impersonations.
He spoke to the animal a second time at the campsite after Team Avatar's initial rejection. Both times, the badgerfrog seemed attentive and, by way of reply, croaked after Zuko had had his say.
When Toph sneaked away from the group to visit him at his campsite, Zuko assumed that he was being ambushed, since he was now on the run again after being accused of being a traitor to the Fire Nation. His reflexive firebending attack, though accidental, burned her feet, causing her to flee from him on all fours. He managed to dodge most of her earthbending attacks, but one caught him with a solid blow to the chest, hindering his attempts to apologize to her. Toph crawled away as Zuko yelled at himself and held his chest injury. The campsite was later disassembled after Zuko joined the team, as he was offered a room at the temple.[1]
References
Edit