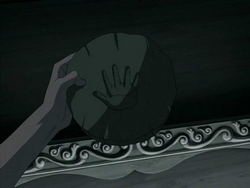 This plaster cast is a clay print of Zuko's right hand that the young prince made when he was a child.[1]
History
When Zuko was a child, his mother helped him make this plaster cast of his hand. The cast held great meaning to Zuko, as it represented the happy times he had spent with his family on Ember Island.[2]
When Zuko visited his family's old beach house years later, he found the plaster cast and compared how the size of his hand had changed from when he was young. He later sat on the porch of the house, contemplating the object before setting it aside, and abandoning the scene at Azula's urging.[1]
References
Ad blocker interference detected!
Wikia is a free-to-use site that makes money from advertising. We have a modified experience for viewers using ad blockers

Wikia is not accessible if you've made further modifications. Remove the custom ad blocker rule(s) and the page will load as expected.