"I'm not leaving... I can't... I've spent too long trying to find this place... There's not another collection of knowledge like this on Earth... I could spend an eternity in here."
— Professor Zei to Team Avatar.[1]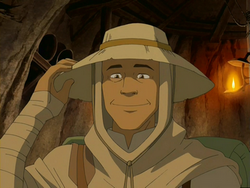 Zei
Biographical information
Physical description
Personal information
Chronological and political information
| | |
| --- | --- |
| Profession | Anthropology professor |
Image gallery (4)
Professor Zei
was the head of the Anthropology Department at
Ba Sing Se University
. An ambitious cultural anthropologist, he was well-traveled and highly educated in exotic cultures. His thirst for knowledge brought him to strange, remote, and often dangerous places. Zei was an eccentric man to whom knowledge was priceless. He got very excited at the prospect of learning anything about history or the world around him. A map of his travels showed he had been everywhere in the world, except the
Fire Nation
. Even though he had discovered many lost civilizations over the years, he longed to find the "crown jewel" of ancient discoveries:
Wan Shi Tong's Library
.
[1]
[2]
Zei attempted to find Wan Shi Tong's Library several times, but failed each time. Though he knew the library was somewhere in the uncrossable Si Wong Desert, he never managed to find it on his own. He met Aang and his friends and befriended the group, initially being very interested to meet a living Air Nomad. He asked questions about the Air Nomads, including their primary agricultural product. Sokka quickly turned the conversation toward maps, but was disappointed when Zei did not have a map of the Fire Nation. The team discovered that the professor had made several trips into the Si Wong Desert. When asked about this, Zei told them about the missing library and his quest to find it. Sokka decided to help him search for the building, believing that there might be information about the Fire Nation there. They decided to search the desert from the sky.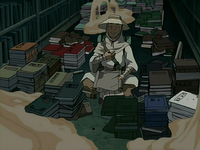 After a few hours of searching, they discovered the library, mostly buried in sand. Zei entered the library, marveling at its architecture, along with Aang, Sokka, and Katara. He easily passed Wan Shi Tong's test of knowledge and perused the library along with the group.
When Wan Shi Tong discovered the Avatar and his friends had betrayed his trust and were planning to use his information against the Fire Nation, he sank his library under the belief that his knowledge should never be misused ever again. As he and the others tried to escape, Zei tried desperately to grab as many books as he could take; eventually, though, he simply declared that he would rather "spend an eternity" in the library than lose his life's work, and the others were forced to leave without him.[1]

Appearances
Edit
Avatar: The Last Airbender Edit
Book Two: Earth (土)
Edit
There are three "zéi"s in Mandarin Chinese, one of which means "thief" (

賊

), which is what an archaeologist is sometimes considered.

ZEI is also an abbreviation for the Center for European Integration Studies, a research institute at the University of Bonn, much like how Zei is a research professor at the Ba Sing Se University.

Professor Zei is mentioned in "City of Walls and Secrets" by one of the students the gang was interrogating.
According to Avatar Extras for "The Library", Zei may have ended up in the Spirit World.
References
Edit