"Fighting the Fire Nation is the only path to freedom, and freedom is worth dying for."
— Captain Yung responding to Aang's advice.[1]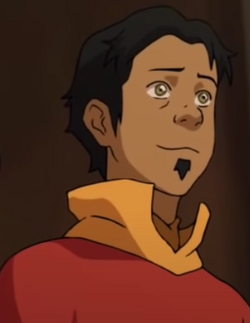 Yung
Biographical information
Physical description
Personal information
Chronological and political information
Image gallery (4)
Yung
was the
captain
of
Omashu
's
army
until
King
Bumi
decided to
surrender
his kingdom to the
Fire Nation
. After the enemy took control, he took upon himself Bumi's leadership, but not the kingship, of the city, thus becoming the leader of the
resistance force
.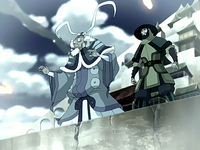 Yung was an enthusiastic earthbender who was willing to die rather than turn Omashu over to the Fire Nation.[2] He led the resistance, planning attacks and trying to remove the city's new rulers from power in hopes of driving the Fire Nation out and reclaiming Omashu for his people. As the newly-returned Team Avatar pondered where to find Bumi in the captured city, he and his team found earthbender resistance fighters who tried to assassinate the governor's wife and daughter by earthbending a rock down one of the delivery slides. This attempt, however, was foiled by Aang deflecting the rock.[1]
Believing them to be the assassins, Mai chased Aang and his friends. Despite foiling their plot, Yung and the others helped him escape. Once down in the tunnels, Yung explained their frustration at merely surrendering the city without a fight. Aang managed to convince Yung that it was best to retreat to fight another day. Following Sokka's plan, they used purple pentapuses prints to simulate "pentapox". After they got out, he noticed they had an extra person after he did a head count, and found the governor's son, Tom-Tom, was among them. He handed the toddler over to Aang, who took him back.[1]
Appearances
Edit
Avatar: The Last Airbender Edit
Book Two: Earth (土)
Edit
References
Edit