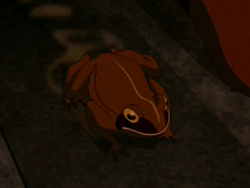 Wood frog
General information
Chronological information
The
wood frog
is a palm-sized, brown-colored
amphibian
that dwells within
Earth Kingdom
swamps. During the winter, it hibernates by freezing itself and sitting at the bottom of a river bed. While frozen, its skin secretes a substance that has medicinal purposes, which disappears directly after they thaw.
When Katara and Sokka became ill, Avatar Aang went to the herbalist for help and was instructed to collect frozen wood frogs. He managed to collect several before he was captured by the Yuyan Archers. These frogs later thawed out and escaped from the prison cell in which the Avatar was detained following his capture. After being rescued from his imprisonment, Aang found more frozen wood frogs and returned to Sokka and Katara, placing the frogs into their mouths and telling them to suck on them until the illness wore off. Sokka, while still feverish, claimed that the substance was "tasty", but he and Katara spit the wood frogs out after they thawed and began to wriggle. The two began to cough and gag[1] and it took weeks for them to get the frog taste out of their mouths.[2] Sokka later claimed to have had a wart on his uvula, or "throatal-flap", for a month afterward, though Katara told him she had looked at it and disagreed.[3]
Connection
Edit
The wood frog is based on the real world wood frog that can actually survive while frozen solid.
References
Edit
See also
Edit