White Falls Wolfbats
Comments

35
8,307pages on
this wiki

This article is about the pro-bending team. For the hybrid creature, see wolfbat.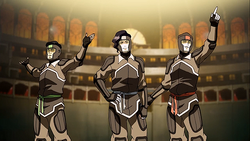 White Falls Wolfbats
General information
| | |
| --- | --- |
| Leader(s) | Tahno (formerly) |
Chronological information
The
White Falls Wolfbats
were a
pro-bending
team and the four-time defending champions of the sport.
[1]
The team consisted of its captain
Tahno
,
Ming
, and
Shaozu
.
[2]
The members of the team were very popular among Republic City's female citizens and often had a crowd of fangirls following them. Prior to Avatar Korra's arrival in Republic City, the team had won three consecutive pro-bending championships.[1]
As part of their run to a fourth title, the Wolfbats achieved a brutal victory in their semifinal match, seriously injuring their opponents in the process.[1] In the final match of the tournament against the Fire Ferrets, they won a closely contested but controversially refereed match. They nearly won in round one with an apparent knockout, but Korra and Mako were able to hang on to the ring's edge before the former launched Mako onto the ring again. In round two, the Wolfbats turned to various illegal moves which were entirely ignored by the match's official, but they failed to capture the round when Korra defeated Tahno in a tiebreaker. They continued their illegal moves in round three, resorting to such tactics as combining elements, ice, and headshots. They eventually won with a knockout that consisted of broken earth disks in shots of water. The illegal attack secured their title, continuing their winning streak.[3]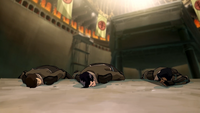 However, after the Wolfbats' victory, the Equalists attacked the arena. When Amon and several Equalists approached them, the Wolfbats launched an onslaught of attacks to defend themselves. The intruders easily evaded the team's attacks, and after doing so, Amon stripped each member of their bending. They were then tossed into the water around the ring where they managed to swim their way to the exit.[3]

Introduction
Edit
The Wolfbats had an overly extravagant introduction during the Pro-bending Tournament finals, dressing up in wolfbat costumes as fireworks went off around the arena and bright lights shone down on them.
Abilities
Edit
The White Falls Wolfbats had remarkable skills despite using various illegal tactics such as ice, combining elements, and headshots. The team was shown to have amazing acrobatic abilities, being able to perform moves such as flips and spins.
References
Edit
↑ 1.0 1.1 1.2 "The Spirit of Competition". Michael Dante DiMartino, Bryan Konietzko (writers) & Joaquim Dos Santos, Ki Hyun Ryu (directors). The Legend of Korra. Nickelodeon. May 5, 2012. No. 5, Book One: Air
↑ The Legend of Korra: Welcome to Republic City. Nickelodeon (April 20, 2012). Retrieved on April 20, 2012.
↑ 3.0 3.1 "And the Winner Is...". Michael Dante DiMartino, Bryan Konietzko (writers) & Joaquim Dos Santos, Ki Hyun Ryu (directors). The Legend of Korra. Nickelodeon. May 12, 2012. No. 6, Book One: Air