Warden's bodyguards
Comments

2
8,322pages on
this wiki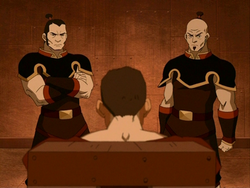 Warden's bodyguards
General information
| | |
| --- | --- |
| Purpose | Protect the warden from prisoners. |
Chronological information
The
warden's bodyguards
were elite guards, handpicked by the prison
warden
of the
Boiling Rock
to ensure his personal safety from all prisoners or anything else that could threaten his welfare. They were also well-known throughout the prison as the best interrogators, as they used methods that could cause injury to any uncooperative person being questioned.
[2]
These guards followed their boss around wherever he went, shadowing his every movement.[3] In the summer of 100 ASC, Sokka developed a plan to escape with Chit Sang, Suki, and Zuko, but he, the Fire Nation's Prince, and the Kyoshi Warrior ultimately decided to remain at the Boiling Rock in the hopes of finding Sokka's father. Chit Sang unsuccessfully executed the escape and was discovered by the prison guards, leading to his interrogation until he falsely revealed who the mastermind of his escape attempt was. Later, during Sokka's second escape attempt, which now included his father, Sokka declared that the warden had to be taken as a hostage, with which Suki tasked herself. Despite efforts to prevent Suki from reaching and kidnapping the warden, the bodyguards were unsuccessful.[1]
Appearances
Edit
Avatar: The Last Airbender Edit
Book Three: Fire (火)
Edit
The warden's bodyguards supposedly made a very tasty peanut sauce and banana-nut sandwich.[2]
References
Edit