Wan Shi Tong
Talk

6
9,331pages on
this wiki
This article is about the spirit. For the first Avatar, see Wan.
"I am Wan Shi Tong, he who knows ten thousand things, and you are obviously humans; which, by the way, are no longer permitted in my study."
— Wan Shi Tong introducing himself to Professor Zei and Team Avatar.[1]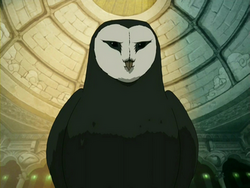 萬事通
Wan Shi Tong
Physical description
| | |
| --- | --- |
| Skin color | Black and white |
Personal information
| | |
| --- | --- |
| Weapon of choice | Talons and beak |
Chronological and political information
| | |
| --- | --- |
| Position | Knowledge Spirit |
Image gallery (5)
Wan Shi Tong
is an ancient, wise, and powerful spirit who collects information for his
Spirit Library
, and thus is more knowledgeable than any human being. He never misses an opportunity to learn new facts or boast about his vast intelligence,
[2]
though he has developed a certain distaste for human
technology
since leaving the
physical world
.
[3]
Although his regular shape is that of a huge black-and-white barn owl, when angered he can assume much more frightening forms.
History
Giving humanity knowledge
Long ago, Wan Shi Tong brought his library from the Spirit World to the physical world. Together with his band of knowledge-seeking foxes, he collected knowledge from all over the world. He put it all on display in his library for humanity to read and hopefully better itself.[1]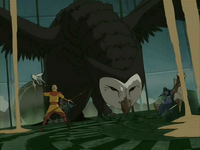 Although he left his great collection of knowledge available to the mortal world for many years, he later became angry at humankind when he saw that they apparently used the library's knowledge for the purposes of war. He was known to have been visited by humans only thrice — once by Zhao when he was a lieutenant; once by Avatar Aang and Team Avatar; and once by Jinora and Unalaq after the library had been moved to the Spirit World — in the two former cases in hopes of finding secrets to destroy their enemies, the Water Tribes and Fire Nation, respectively. After Sokka broke a vow made to Wan Shi Tong that no knowledge found in the library would be used for violence, Wan Shi Tong pulled the library back into the Spirit World by sinking the library, attacking Aang and the others. He was eventually knocked out by Sokka, who, along with Aang and Katara, escaped from the sinking library thereafter.[1]
Encountering Jinora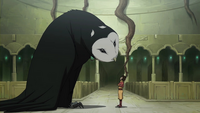 In 171 ASC, Aang's granddaughter, Jinora, entered Wan Shi Tong's library searching for information on the location of the spirit portals, though at the sight of the vast collection of books, she remarked that she could remain there forever, reading. The owl spirit flew down in front of the young airbender and warned her that the last human, Professor Zei, who desired to "read forever" was still there, pointing to his skeletal remains slumped against a bookshelf. Wan Shi Tong told her to leave immediately, reminding her that humans were not allowed. Jinora attempted to convince Wan Shi Tong to let her remain by offering new knowledge, but he rebuffed her, saying "those [were] the old rules", and voiced his disbelief that she could offer him anything he did not already know. Jinora responded that she could provide him with information about the radio, but Wan Shi Tong claimed he already knew how the device worked, saying the box contained a small man who sung and played instruments. However, this description, which the owl spirit had been given by one of his Knowledge Seekers, was incorrect, and Jinora provided a more in-depth explanation. Wan Shi Tong cut off her explanation, admitting that while he did not know what she had offered, he still had no interest in human inventions, and requested once more that she leave. The young girl said she was Aang's granddaughter and had come to the Spirit World with Korra, trying to find the spirit portals. At this, Wan Shi Tong let Jinora look around, but warned her not to break anything before flying away.[3]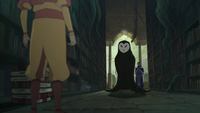 While Jinora was reading about Harmonic Convergence, Wan Shi Tong returned with Chief Unalaq at his side, having told the chief that Jinora was there. Explaining his alliance with Unalaq, the spirit said that the waterbender had proven to be a good friend to the spirits, unlike the Avatar.[3]

Appearances
Avatar: The Last Airbender
Book Two: Earth (土)
The Legend of Korra
Book Two: Spirits (神靈)
Trivia
References
See also