"I am Wan Shi Tong, he who knows ten thousand things. And you are obviously humans. Which, by the way, are no longer permitted in my study."
— Wan Shi Tong introducing himself to Professor Zei and Team Avatar.[1]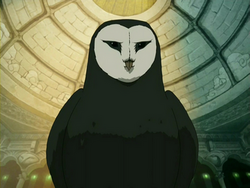 萬事通
Wan Shi Tong
Biographical information
Physical description
| | |
| --- | --- |
| Skin color | Black and white |
Personal information
| | |
| --- | --- |
| Enemies | Humans (primarily those who seek to use his library's knowledge for war), Zhao, Team Avatar |
| | |
| --- | --- |
| Weapon of choice | Talons and beak |
Chronological and political information
| | |
| --- | --- |
| Position | Knowledge Spirit |
Image gallery (3)
Wan Shi Tong
was an ancient, wise, and powerful spirit who collected information for his
Spirit Library
and thus was more knowledgeable than any human being. He never missed an opportunity to learn new facts or to boast about his vast intelligence.
[2]
Although his regular shape was that of a huge black-and-white barn owl, when angered he could assume much more frightening forms.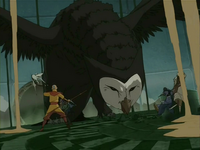 Long ago, Wan Shi Tong brought his library from the Spirit World to the physical world. Together with his band of knowledge-seeking foxes, he collected knowledge from all over the world. He put it all on display in his library for humanity to read and hopefully better itself.[1]
Although he left his great collection of knowledge available to the mortal world for many years, he later became angry at humankind when he saw that apparently they used the library's knowledge for the purposes of war. He was known to have been visited by humans only twice — once by then-Lieutenant Zhao and once by Aang and his friends — in both cases because the visitors were hoping to find secrets to destroying their enemies, the Water Tribe and Fire Nation, respectively. After Sokka broke a vow made to Wan Shi Tong that no knowledge found in the library would be used for violence, Wan Shi Tong pulled the library back into the Spirit World by sinking the library, attacking Aang and the others. He was eventually knocked out by Sokka, who then, along with Aang and Katara, escaped from the sinking library.[1]
Appearances
Edit
Avatar: The Last Airbender Edit
Book Two: Earth (土)
Edit
"Wan Shi Tong" (

萬事通

) is a phrase in Mandarin Chinese that means "He who knows ten thousand things",[2] a term he even used to describe himself.[1]
The "ten thousand things" is a Taoistic expression for all of creation, introducing himself as "he who knows ten thousand things" Wan Shi Tong calls himself all-knowing. He also directly refers to himself as "all-knowing" when he tells Sokka "If you're going to lie to an all-knowing spirit being, you should at least put some effort into it."
Wan Shi Tong's two forms resemble animals which are used as symbols for knowledge in the real world, the owl (west, such as Europe) and the serpent (east, such as China).
The owl is considered a symbol of wisdom in Asia, and is also a symbol of Athena/Minerva, the Greek/Roman Goddess of Wisdom.
Like an owl, Wan Shi Tong had the ability to turn his head almost completely around.
When Wan Shi Tong first appeared in "The Library", he briefly looked like the spirit "No-Face" from Miyazaki's Spirited Away. Both No-Face and Wan Shi Tong turn into a more dangerous and evil form when angered (Wan Shi Tong turned into a dragon-like beast when he saw what Aang did and No-Face turns into a monstrous form when he accidentally absorbs an employee).
Wan Shi Tong also appeared briefly in the animated short "School Time Shipping", as the school librarian, parodying his library in the regular series.
Wan Shi Tong greatly resembled a common barn owl, which are known for their excellent hearing and flat facial disks. They are also known to screech rather than hoot like other owls would do.
Wan Shi Tong had studied all three types of waterbending: Northern Water Style, Southern Water Style, and Foggy Swamp Style. It was unfortunate he took the library with him as Southern Water Style is all but extinct in the Avatar World, except for a few surviving southern benders such as Hama.
Wan Shi Tong's normal form as a barn owl is reminiscent of his spirit status. Barn owls, because of their pure white faces and black eyes, are often called "ghost", "demon", or "death owls".
According to Avatar Extras for "The Library", he is the world's oldest librarian.
References
Edit
See also
Edit