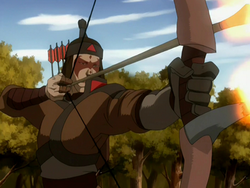 Vachir
Biographical information
Physical description
Personal information
| | |
| --- | --- |
| Weapon of choice | Bow and flaming arrows |
| | |
| --- | --- |
| Fighting style(s) | Archery |
Chronological and political information
| | |
| --- | --- |
| Affiliation | |
Image gallery (2)
Vachir
was a member of the
Rough Rhinos
, a
Fire Nation
cavalry unit, and served as their bowman. The
tattoos
on Vachir's face and his skill with a bow resembles the characteristics and skills that
Yuyan Archers
possess. He specialized in fire arrows and his bow had a small torch just below the grip to ignite them. Vachir, along with the rest of the Rough Rhinos, was responsible for the deaths of
Jet
's parents and the destruction of their village.
[1]
Around 91 ASC, Vachir and the rest of the Rough Rhinos attacked the village where Jet and his family lived. In their attack they killed his parents and destroyed the village, leaving Jet with a hatred of the Fire Nation for years to come.[1]
In the spring of 100 ASC, the Rough Rhinos attempted to capture the Earth Kingdom's Chin Village in honor of Fire Lord Ozai. During this fight, Sokka reflected the sun in his magnifying glass to distract Vachir. Vachir turned and fired at the source of the light without being able to take aim properly. His arrows missed Sokka; instead they embedded themselves into Yeh-Lu's saddle bag which contained four sticks of dynamite. Yeh-Lu picked up the bag and threw it on the roof of a neighboring house where it exploded, burying Yeh-Lu under debris. While Vachir was still distracted, Katara sneaked up behind him and used her water whip to cut the saddle straps. Vachir fell off and was dragged by his fleeing rhino.[2]
Later that spring, the Rough Rhinos ran into Iroh and Zuko, who had been branded traitors of the Fire Nation. Vachir shot a lit arrow at Zuko's back, but Zuko sensed the arrow, turned, and broke it apart as it approached him. Zuko then let loose a measured stream of fire which burned a hole in the archer's bow, a hand's width above the archer's hand. The blast passed through the bow and broke the string, leaving Vachir weaponless.[3]
"Vachir" is a Mongolian name which means "thunderbolt".
On the old Nickelodeon website, Vachir's name was misspelled as "Vashir".
Appearances
Edit
Avatar: The Last Airbender Edit
Book Two: Earth (土)
Edit
Avatar comics Edit
Book Two: Earth (土)
Edit
References
Edit