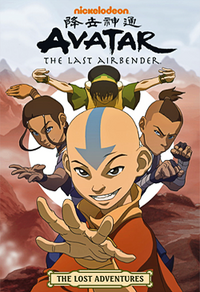 Dark Horse and Nickelodeon are teaming up to release a 240 page comic book consisted of unpublished pieces of work from the Avatar franchise. The book will contain comic publications that did not make it mainstream, along with comics that could not have been published due to the Nickelodeon official magazine getting cancelled.
As of now, two introductory stories are reported to be scheduled for release on May 7th, during Free Comic Book Day (FCBD). The stories to be released consist of the unreleased Relics, and the classic graphic story, Dirty Is Only Skin Deep. This is to be distributed alongside publications from Star Wars: The Clone Wars, in the form of a flip-book comic exclusively available in local comic book stores.
It has been reported that:
The 240 page comic book will contain over 70 pages of unreleased Avatar comics along with all the comics previously viewable on Nickelodeon's out-of-print magazine.
It is consisted of at least 26 stories set in the Avatar universe, and is created by artists and writers that worked alongside Mike and Bryan during the series. The creators have stated that they are excited to work closely with Dark horse to produce the book.
Dark Horse will additionally release original graphic novels that will recount events following the third book. The stories will follow Team Avatar's adventures, along with their attempts to rebuild the Avatar World.
---
Source: Avatar: The Last Airbender from Dark Horse and Nickelodeon
| | | |
| --- | --- | --- |
| | Please stay civil. You should not harass other users or their views. | |
Ad blocker interference detected!
Wikia is a free-to-use site that makes money from advertising. We have a modified experience for viewers using ad blockers

Wikia is not accessible if you've made further modifications. Remove the custom ad blocker rule(s) and the page will load as expected.