First off, if you haven't taken a gander at Bryan's tumblr recently, it might be time to take a look because after this Avatar drought, we are getting more information about the second book, which will finally air in September!
That said, Bryan has released a print of Korra's "Spirit Parade". It offers a look at a considerably more whimsical realm within the Spirit World, with what appears to be spirits...? I personally think that conceptually, those do not seem up to par with The Dark Spirit and even with the recently introduced Mother of Faces. What do you guys think? I see a few spirits that resemble Hei Bai's monster form, and what looks like a giant carrot. It will be very interesting to see if Korra encounters them in the second season.
If you want your own copy of the print, make sure to purchase one at Comic-Con and get it signed. If you cannot attend, worry not! The print is available for purchase at Nickelodeon's online store.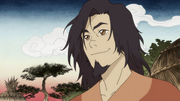 Now! For the big news! Past interviews have revealed that the second book will explore the origins of the Avatar. Walking Dead fans can let out a blood-curling cry because it has been revealed that Steven Yeun will be joining the all-star Korra cast as Wan, the very first Avatar in existence. Yeun will be appearing in a two-parter origins special ("Beginnings 1 & 2") featured in the second book. Wan's journey takes place 10,000 years before Korra's time, and the special will follow his quest to bring balance between mankind and the spirits, which ultimately leads to becoming the first Avatar.
These episodes will mark a significant stylistic departure from the usual aesthetics of the series. "To depict the world in Wan's time, the creative team drew inspiration from ancient and traditional East Asian ink wash paintings and woodblock prints for the environments, color palettes, and stylizations of the elements," said a Nickelodeon representative. "The results expand the vision of the Avatar World, but also stay very true to the building blocks of its visual influence."
More details will be announced at the Legend of Korra panel at Comic-Con International in San Diego, which is slated for 11:15 a.m. Friday morning in Ballroom 20.
On a final note, congratulations to the official soundtrack for reaching #1 on Amazon's bestseller list!
What do you think about these updates? Excited? Disappointed? How about the voice actor line-up? Leave your comments below and don't forget to watch the official Book Two trailer!
LINK SUMMARY:
| | | |
| --- | --- | --- |
| | Please stay civil. You should not harass other users or their views. | |
Ad blocker interference detected!
Wikia is a free-to-use site that makes money from advertising. We have a modified experience for viewers using ad blockers

Wikia is not accessible if you've made further modifications. Remove the custom ad blocker rule(s) and the page will load as expected.