The White Lotus Sentinel: Anonymous Valentines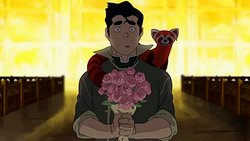 _________________________________________________________________________________________________
"Protection and power are overrated. I think you are very wise to choose happiness and love."

— Uncle Iroh
Ah, yes. I am Ty, and you are my beloved Avatar Wikians. It's that time of year again; the time of year filled with unbridled passion and uncontrollable love that sometimes takes the form of truffles, flowers, or, in the worst cases, those nasty-tasting "Sweethearts" candies that nobody willingly eats. Valentine's Day is about more than chocolates and sweets; it's about more than red and pink Hershey Kisses - No, it's about showing the people you care about some good ol' fashioned love and appreciation. 
When's the last time you received a Valentine? I'm not talking about a Scooby-Doo card with a lollipop taped to the back; I'm talking about a truthful, meaningful piece of writing from someone. If you've ever been at the receiving end of a well-thought-out Valentine from someone special, then consider yourself lucky because some of us never have! *goes to cry in corner* 
My intent with this project is to rekindle some of the spirit that comes with Valentine's Day and reignite the passion that characterizes our Wiki and Fanon Portal. That doesn't mean I'm telling you to go smooching everyone in sight *cough Mako cough* I'm not telling you to give anyone the oogies. 
Jokes aside, I'm offering this opportunity in conjunction with the rest of the White Lotus Sentinel Staff, namely Omashu Rocks, Minnichi, and AvatarRokusGhost: 
On February 14th, this coming Valentine's Day, the White Lotus Sentinel will release a Valentine's Day themed issue. We will be focusing on the Romance genre of Fanon, specifically the lesser known romance gems of the portal and the nuances of writing romance itself. I know for a fact that this community LOVES it's romance and romantic tension. That much is evident by the past "shipping wars" and continued debates about which guy Korra will end up with. You know you're guilty of it! We all are! 
That being said, here's the deal. In this upcoming issue of the White Lotus Sentinel, we will also include an Anonymous Valentine Article. This article will be comprised of anonymous Valentines and messages that you send to us! These messages can be addressed to anyone, and of course the sender will remain anonymous, consistent with the spirit of Valentine's Day! This is meant to be fun, so I'll give a few examples of possible Valentines to get the ball rolling:
---
Dear Katara,
I once dreamed that I was kissing you by the edge of a cliff before I set off to face the Fire Lord. I told you I was dreaming about living underwater - that was a lie. 
Love, Anonymous
---
Dear Zuko,
Zutara.
Love, A Shipper Who Regrets Nothing.  
---
Dear Yue,
Sometimes I lie awake thinking of you. Especially on crisp, clear nights I can't help but think of time we had together. Moonlight filters through my open window, and for some reason I feel safe. I know you'll always watch over me. From down here, I'll always be gazing up at you, too.
Love, Anonymous
---
Dear Lady Lostris,
I got a new set of Twister I've been waiting to break in. ;) 
Love, Anonymous
---
Dear Hiroshu, 
I'm that girlfriend all the Silent Hero in Emerald readers say you need.
Love, Anonymous 
---
I hope you get the drift. XD 
These "Valentines" can be long or short, funny or serious, literally anything you want. They can be addressed to characters, other users, or fanon characters. If you don't want to be anonymous, then feel free to proudly proclaim your love! Feel free to send as many Valentines as your heart desires! 
Beware, if you try to take advantage of this by making hurtful messages or insults, your Valentine will not be included. Nothing wrong with a bit of fun, but please be mature. The WLS Staff will be reading all of the entries. 
If you wish to remain anonymous, use this important link and address your email to "wlsstaff@yahoo.com," (the aptly named official email of the WLS Staff). Please make the subject of the email "Valentine." Your email will be completely anonymous, so we will have no idea who sent the message. This way, we can avoid any privacy issues. 
If you wish to not be anonymous and have your name signed on the Valentine, simply message me or another WLS Staff member directly with your Valentine or a link to it.
Questions? - don't hesitate to ask in the comment section.
We anxiously anticipate your entries and can't wait to see what you cook up! 
Ty
Nirvana 00:48, February 7, 2014 (UTC)
p.s. Feel free to message me or any of the other WLS Staff members if you would like to write an article for the upcoming Valentine's Day issue.
Ad blocker interference detected!
Wikia is a free-to-use site that makes money from advertising. We have a modified experience for viewers using ad blockers

Wikia is not accessible if you've made further modifications. Remove the custom ad blocker rule(s) and the page will load as expected.