In Azula's Mind: The first great fanon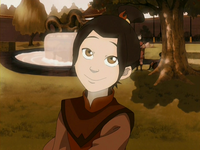 Wish you could see the world from Azula's point of view? Wish you could see her story through her eyes? Then come read In Azula's Mind, the story of one sadistic teenager's journey to track down the most hated enemies of the Fire Nation. See all of Azula's thoughts and moods; live out her story yourself (because it is narrated in first person). The creator and writer,
Iceland77
, has given me the honor of helping her with her fanon, an offer which I have accepted.
InspiredbyKaizuh
is also helping a whole lot and we're determined to make Azula's story an extremely enjoyable read. The page is under construction; it needs help with spelling, grammar and punctuation, most of it which has been taken care of by now. Iceland77 has written the first chapter, but it needs development. We're still trying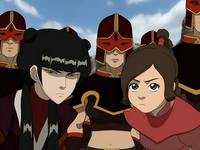 to organize everything, but with your help, we can make this truly awesome!
So please check it out and spread the word! We would love to have some readers! But no Azula haters. None. We can guarantee that In Azula's Mind will be capitvating, highly interesting, funny and adventurous (especially when we get to the finale where she goes insane, but that won't be for a while). Iceland77 would really appreciate your support!
And don't be afraid to comment! Give us ideas, advice, etc. and tell us where we can improve! But please don't use foul language and, if you do hate it, then never, ever come back.
Reception (this will expand later on)
"Sounds cool!"

— Skybender101
"I like this fanon!"

— Keitonashita
"This is a cool story.:)"

— Tara22
I can 100% guarantee these comments have not been "fluffed up" or tampered with in any way. They are the real statements of the commenters.
Guarantee
I can guarantee all fanon writers that none of your ideas will be copied from for this fanon. We assure you that no ideas will be stolen from other stories.
Shoji's Journey: The second great fanon
Another great fanon is
Shoji's Journey
, written by
Keitonashita
. This is yet another fabulous story you won't want to miss out on. It takes one young boy who only appeared in one episode and creates an entire story revolving around him. Keito gives you a complete story of one of the most minor characters in Avatar. This is a story of the adventure that this boy, Shoji, goes on to become a Firebending master.
Several chapters are already available for you to read and more are coming. I can tell you I was mesmerized by the time I was halfway through the first chapter. This story includes good humor and drama and is something you are sure to like from the moment you start reading. Keito already has some fans, but he wants the word to spread about his fanon, so come read it! I can assure you, it'll be something worth giving your time to read.
Reception (this may expand)
"Hey, just read your 'Shoji's Journey' episodes. They are AWESOME!!!!!!"

— Sakitanashita
"I like Shoji's Journey because it takes a couple of characters that weren't named or given much face time and it spins a whole story around them trying to find the truth..."

— Evatar114
Conclusion
I hope I've given you a chance to think about reading two awesome fanon stories. Trust me, you won't be disappointed! So if you've got a list of fanon you want to read, make room for these two (if they're not already on your list)! We appreciate anyone's support!
Ad blocker interference detected!
Wikia is a free-to-use site that makes money from advertising. We have a modified experience for viewers using ad blockers

Wikia is not accessible if you've made further modifications. Remove the custom ad blocker rule(s) and the page will load as expected.