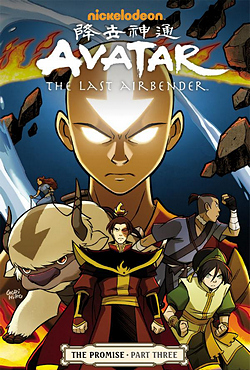 Most of us are familiar with the name, Gene Yang, author of the The Promise trilogy that tells us about Team Avatar's adventures after the end of the War. Recently, ComicsAlliance has interviewed Gene Yang, asking him not only about the comics themselves, but his thoughts on the Avatar series and how it all ended.
For the entire interview see here.
Interview
ComicsAlliance: First up, I know you're a big fan of the animated series. What was it that drew you to it?
Gene Yang: Avatar: The Last Airbender is, to my mind, the greatest American animated series ever produced. The characters lived and breathed. The world featured fully-realized cultures and martial-arts-based magic system. The writing was funny and heart-felt and nuanced. It's no wonder there are so many Airbender fans out there.
CA: Were there any particular episodes or moments of the series that stuck out for you as a fan, or that really encapsulated what you wanted to do with the comic?
GY: There are so many! I've re-watched many of the episodes to prepare for writing the comics. I gotta say, every time I finish an episode it becomes my favorite. I love the humor of "Bitter Work," the way past and present interweave in "Zuko Alone," how spiritual ideals and personal relationships clash in "The Guru." "The Beach" is noteworthy because, for one episode, the second most evil villain in the series, Azula, becomes a compelling protagonist. We see her insecurities, her emotional wounds. We feel for her. That's one of the many aspects of the original series that I love. Good and evil are often mixed together in the characters. Good characters have a spot of evil, and evil characters have a spot of good. Very yin and yang.
CA: Was there anything you wanted to do that you couldn't?
GY: No, not really. With my own comics, I try hard to get the vision in my head onto paper, to have one match the other as closely as possible. With the Airbender comics, I'm working with someone else's vision, an already-established vision. I want to stay true to what's come before. The comics ought to be new and surprising, of course, but they also need to feel like they come from the same place as the animated series.
Throughout the process, Mike, Bryan, and the editors on the project give me notes. I've taken things out of my outlines and scripts as a result of those notes, but it's all for good reason. Especially in the beginning, I needed to get used to the Airbender storytelling voice. I really needed that guidance.
CA: At the end of the cartoon, the bad guys are pretty thoroughly beaten, the good guys have won, and everything seems pretty okay. Was it difficult to figure out how to build a conflict that could carry the comics and still be satisfying for fans from that kind of starting point?
GY: Despite the unresolved plot threads (Zuko's mom being the biggest), I found the cartoon's ending to be immensely satisfying. When I first signed on to write the comics, I freaked out a little. I had a hard time imagining how to continue the story in an authentic way.
Two things helped. First, I looked at history. The Fire Nation is loosely based on Imperial Japan, so I looked at what happened to Japan after they were defeated in World War II. It's not like the end of the war meant the end of conflict, especially in Japanese colonies.
Second, I remembered that our protagonists are teenagers. Especially in your teenage years, character growth is often two steps forward, one step back.
CA: I really liked that you went in the direction of showing that beating the evil warlord doesn't solve the problems of a hundred-year occupation, and that things aren't always that simple, and how that's a great example of teenagers learning that things aren't always that simple. Was there something specific in history that you drew from?
GY: I looked into post-WWII Japan. Taiwan, for instance, was under Japanese control for many, many decades up until the end of World War II. Many Japanese families moved to Taiwan during the occupation. Then, when the war ended, they were forced to move back. And at the macro level, the Taiwanese had every reason to cheer when the Japanese left. The Japanese military could often be incredibly brutal. The Taiwanese lived as second-class citizens on their own land.
However, when you look at individuals and families, things sometimes look different... Interpersonal relationships don't always correspond neatly to international politics. We play with some of those dynamics in the Airbender comics.
CA: One of Avatar's great strengths is that there are so many memorable minor characters, like the Kyoshi warriors or, my personal favorite, The Boulder. Were there any that you just really wanted to use?
GY: Of course! One character I really wanted to write but couldn't was Jet. I thought his fate was ambiguous enough that I could bring him back. (Heck, even Sokka said so!) But no. Unlike in the Marvel and DC universes, when people die in the Avatarverse, they actually die.
I really like the Freedom Fighters. I love their backstory, and their character designs are just awesome. Sneers is the one Freedom Fighter who doesn't get a fair shake in the original cartoon. He shows up for maybe 10 minutes in the entire series. We're going to rectify that in the comic.
CA: For art, you're working with Gurihiru, who are just amazing on this book. Had they seen the show before?
GY: Man, Gurihiru are amazing, aren't they? You're right. They're absolutely perfect. They stay true to the series while really taking advantage of the strengths of the comics medium. Many of their panels invite you to linger a bit on the detail, which you obviously can't do with the frames of an animated show. I'm not sure if they watched the show before they started on the project. I've never asked them. But they've certainly been studying the episodes in detail while they've been working.
CA: Since this is really the only thing we have to fill that long space between The Last Airbender and Legend of Korra, are we going to see any connections?
GY: Oh, absolutely. While we hope the comic can stand on its own, we want it to be full of connections. It's set in a world in transition. A big part of the fun will be seeing how we get from the old to the new.
CA: Are there any examples of what we can see to tie it into Korra, or are you keeping those under wraps?
GY: Well, broadly speaking, we move from the old world of Avatar: The Last Airbender where the four nations live essentially separate existences to the new world of Korra where the four nations are much more intermingled. The Fire Nation colonies in the Earth Kingdom play a big part in this.
For more specific connections, you'll just have to read the comics! I've learned so much from working on this project. There are so many talented people involved. It's been an amazing experience!
| | | |
| --- | --- | --- |
| | Please stay civil. You should not harass other users or their views. | |
Ad blocker interference detected!
Wikia is a free-to-use site that makes money from advertising. We have a modified experience for viewers using ad blockers

Wikia is not accessible if you've made further modifications. Remove the custom ad blocker rule(s) and the page will load as expected.