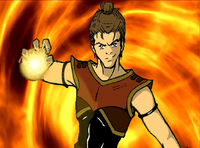 Well, it's been a good run.
I have recently completed production of Avatar: Guardian, and am prepared to post the finale on the wiki. This blog serves a purpose: I have an announcement. I have strived to emulate the original series in as many respects as possible, from personalities, to a believable plotline, and now to chapter number. Now, the finale will follow the same pattern. I am here to say that I will publish all 4 chapters of Guardian's finale at once! One day, 4 chapters!
Needless to say, this is not the end of Guardian's presence on the wiki. Many will have noticed that most character pages are not up-to-date, and this is a problem I will fix. Once Guardian is done, I will begin another series, though I am not at liberty to disclose details at this point.
In conclusion, I would like to thank several people:
Twilitlink: The veteran author, an early fan, and a true inspiration. Guardian was inspired in part from The Bos' fandom of Wanted.
Vaznock: While he is currently inactive, he taught me the basics of Wiki/template formatting, allowing me to customize the pages of Guardian to their current quality and help other users.
Dragon of The West: The constant editing process of My Own Savior and Honor Thy Father has improved my writing, allowing Guardian's quality to constantly increase.
Now, I would like to thank the readers Guardian has had. I absolutely love reading opinions of the story, no matter what they say. Feedback is my favorite part, as it makes all the time spent writing worth it. I'm open to criticism, and I'm awaiting feedback on the finale.
Ad blocker interference detected!
Wikia is a free-to-use site that makes money from advertising. We have a modified experience for viewers using ad blockers

Wikia is not accessible if you've made further modifications. Remove the custom ad blocker rule(s) and the page will load as expected.