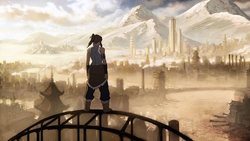 A part of the cast for the upcoming series Legend of Korra has been revealed in a blog post from the Wall Street Journal's Speakeasy blog. Many of the names are attached to characters whose names we have never heard before. Here's the list:
On the downside, this is the second article that has used the long title The Last Airbender: Legend of Korra - an unwelcome possible change of title considering its length and its association with a movie many fans did not enjoy. However, it should be considered that both articles were from the same blog, written by the same person - Christopher Farley.
Thanks to Hasdi for this information. WSJ article here.
| | | |
| --- | --- | --- |
| | Please stay civil. You should not harass other users or their views. | |
Ad blocker interference detected!
Wikia is a free-to-use site that makes money from advertising. We have a modified experience for viewers using ad blockers

Wikia is not accessible if you've made further modifications. Remove the custom ad blocker rule(s) and the page will load as expected.