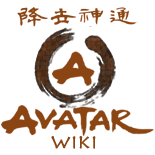 Time flys by fast indeed - 2009 has gone by like a blur for many of us. As we near the end of the year, and we celebrate the holidays around the world in the snow or the surf, we thought it would be about time you heard from us - about what we've done this year, and what's coming, and how you can help.
What's happened this year?

Follow us on Twitter!
What's coming next year?
Next year, we seek to outdo 2009 by at least twice or three times over, and hopefully ten or twenty times over! With the release of The Last Airbender coming on July 2, there's much to be done.
Skin for films: While we haven't talked about it much yet, we will probably provide a brand new, darker skin specifically for the film, and shown on all articles about the film, as well as the main page. Look out for it in about May or June! (Or, if such things interest you, check the forum when we start planning it out.)
New film articles: Currently, while we do have an expansive article on The Last Airbender that is larger and more informative than that on Wikipedia, we plan to provide more articles about the film, and have them filled with useful bits come the film's release. Many existing articles, like Aang, will have film counterparts to keep information relevant.
Main page for film: Alongside skin changes for the main page, we will obviously also be undertaking a themed redesign of the main page for the release of the film. We will probably start talking about that in around March. Expect a lot of blue!
More fun ideas: Remember the contest we held earlier this year? Next year, we will hold more activities of that type. Look out for it in a blog announcement posted on the main page.
Disclaimer: Views expressed in the preceding section are those of the author and may not reflect the entire community. They are here merely to stimulate the formation of ideas.
What can I do to help?
Plenty! While the canon articles are fairly informative, there is so much you can do to help us prepare for the release of the film in July.
Write a blog post. That is one of the biggest ways you can help us. We want to hear what you think about the film or anything related. It doesn't have to agree with what we say - in fact we'd love to hear a different opinion! Or if the film doesn't interest you - write reviews of episodes, advertise fanon or fan fiction that you've written.
Jump into the forums and discuss the series and films with other Avatar fans! Ask your questions about the series, and answer others'! You can discuss anything about Avatar - your favourite characters, comparisons between characters and characters from other series, and much more!
We want to hear your concerns. What aren't we doing right? What do you want to see on Avatar Wiki? Do you have any brilliant new ideas you would like to see the light of day? Tell us.
Once again, enjoy the holidays, and have a Happy New Year! If you're new and you feel like giving something to the wiki, start now! If you're a veteran, we appreciate your work over the past year and we hope you stick around for one of the wiki's biggest years.
Ad blocker interference detected!
Wikia is a free-to-use site that makes money from advertising. We have a modified experience for viewers using ad blockers

Wikia is not accessible if you've made further modifications. Remove the custom ad blocker rule(s) and the page will load as expected.