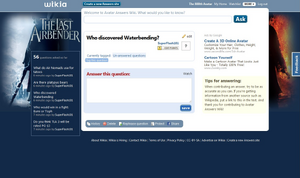 Some of you may have noticed work over the past weeks referring to some strange "Avatar Answers Wiki", including the redirecting of all questions asked via the Wikianswers widget there, and links on the sidebar menu there. Today, work to get this nascent question and answer wiki up to a workable standard (that is, do something about the ridiculously bland default look of the Answers wikis) has finally been completed. You will notice that the base skin is almost identical to that of the main wiki.
There are a couple of differences between the Answers wikis and the wikis that we're all used to. The user pages are by default user profiles - see an example here. The page controls are all at the bottom of the page instead, and there's no main search bar. There's no toolbox, which is why there's a links section on the main page so that people can access Recent changes without typing it directly as a URL.
All users of this wiki are welcome to ask or answer any questions regarding Avatar or The Last Airbender there, or even about Avatar Wiki itself. There are already a few dozen questions there, many unanswered - let's hope to get that up to several hundred!
Ad blocker interference detected!
Wikia is a free-to-use site that makes money from advertising. We have a modified experience for viewers using ad blockers

Wikia is not accessible if you've made further modifications. Remove the custom ad blocker rule(s) and the page will load as expected.