Comments

9
It's a "Better World" - well, as soon as I get the new chapters out it is
Ad blocker interference detected!
Wikia is a free-to-use site that makes money from advertising. We have a modified experience for viewers using ad blockers

Wikia is not accessible if you've made further modifications. Remove the custom ad blocker rule(s) and the page will load as expected.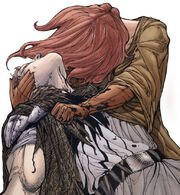 Well, Fanon Users, you've probably realized the new chapters of Better World are taking a while to come up. Even the latest Kyoshi Revolts has come out yet, right? Well, that's my fault. :P
LOL, yup - mostly due to my procrastination (but also with my busy personal life) I have been unable to publish "Spare the Innocent" (ch. 2 of Better World) and "Samson and Delilah" (new ch. for Kyoshi). But, I promise they will be out later this month. Now, it's not just because I'm lazy, to be completely honest - I just found out my word document has run out of running-time, so I lost the ability to type on any of the stories. I'm trying to figure out how to fix it, but if worse-comes-to-worse, I'll end up having to retype it (*gasp!*)
Now, on brighter news, I've leaked the chapter titles for the rest of BW "New Politics" Chronicles. If you haven't seen them, here they are:
"Space the Innocent" (Chapter 7/2)
"Be Thou A Cain" (Chapter 8/3)
"The Will of All Mankind" (Chapter 9/4)
"Forgive Me, Lord..." (Chapter 10/5)
"...For I Have Sinned" (Chapter 11/6)
"Breaking Point" (Chapter 12/7)
"Brothers in Arms" (Chapter 13/8)
As you probably can tell, a lot of the new titles are based around literary/religious/social material. That's pretty much what I try to do with this story, especially this chronicle. So tell me what you think.
In related news, a new interview between me and Vaznock should be coming out next issue of the BSST, but I haven't gotten a response/confirmation on how that's going with Vaz - he lost it so we have to do it again, but IDK when that should be happening - but nonetheless it shouldn't be that long from now.
Also, just to through this out there, what do YOU the fanon community think about a "Fanon Awards"? Sort of like the Emmys but for fanon stories and comics. I just want to hear some word on it before I even think about pitching something to the community.
Well, thanks for wasting time to read my boring little blog (lolz, :P).
Cheers!