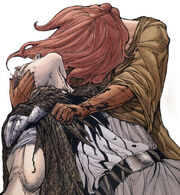 Well, Fanon Users, you've probably realized the new chapters of Better World are taking a while to come up. Even the latest Kyoshi Revolts has come out yet, right? Well, that's my fault. :P
LOL, yup - mostly due to my procrastination (but also with my busy personal life) I have been unable to publish "Spare the Innocent" (ch. 2 of Better World) and "Samson and Delilah" (new ch. for Kyoshi). But, I promise they will be out later this month. Now, it's not just because I'm lazy, to be completely honest - I just found out my word document has run out of running-time, so I lost the ability to type on any of the stories. I'm trying to figure out how to fix it, but if worse-comes-to-worse, I'll end up having to retype it (*gasp!*)
Now, on brighter news, I've leaked the chapter titles for the rest of BW "New Politics" Chronicles. If you haven't seen them, here they are:
"Space the Innocent" (Chapter 7/2)
"Be Thou A Cain" (Chapter 8/3)
"The Will of All Mankind" (Chapter 9/4)
"Forgive Me, Lord..." (Chapter 10/5)
"...For I Have Sinned" (Chapter 11/6)
"Breaking Point" (Chapter 12/7)
"Brothers in Arms" (Chapter 13/8)
As you probably can tell, a lot of the new titles are based around literary/religious/social material. That's pretty much what I try to do with this story, especially this chronicle. So tell me what you think.
In related news, a new interview between me and Vaznock should be coming out next issue of the BSST, but I haven't gotten a response/confirmation on how that's going with Vaz - he lost it so we have to do it again, but IDK when that should be happening - but nonetheless it shouldn't be that long from now.
Also, just to through this out there, what do YOU the fanon community think about a "Fanon Awards"? Sort of like the Emmys but for fanon stories and comics. I just want to hear some word on it before I even think about pitching something to the community.
Well, thanks for wasting time to read my boring little blog (lolz, :P).
Cheers!
Ad blocker interference detected!
Wikia is a free-to-use site that makes money from advertising. We have a modified experience for viewers using ad blockers

Wikia is not accessible if you've made further modifications. Remove the custom ad blocker rule(s) and the page will load as expected.