This blog will serve as the home to all Korra Nation updates, which will be added as they appear.
Asami Sato development art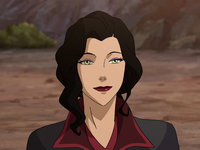 Korra Nation has just released another sneak preview for Korra fans, early design concept art of a character we haven't heard much about, Asami Sato. They also issued the following description;
"An early sketch design for Asami Sato - a young non-bender and daughter to a wealthy industrialist."
Her last name also raises the question of her relation to Hiroshi Sato, another character in Korra who we still know nothing about. Is it possible that he is in fact Asami's "wealthy industrialist" father?
Aang Statue development art
Released by Korra Nation today was development art for Aang's statue which currently resides in Republic City. KN also issued the following statement;
"Development art of the Avatar Aang statue by co-executive producer Joaquim Dos Santos. The statue was a gift from the Fire Nation to stand as a symbol of peace and goodwill."
We finally get a better look at what Aang's foot is standing on, but is it still a White lotus flower? I also find it interesting that the Fire Nation has given it as a gift to the world. Is that because of the events of the Hundred Year War, or could it be as a result of the Harmony Restoration Movement? There also appears to be some kind of temple on the island, I wonder what for?
Korra and her father
Another Korra Nation update, this time, sketches of Korra, and her father! The following statement was also released;
"A collection of character sketches from a production meeting - including Korra and a shot of her father."
I really like the design of her father, he looks strict, mean, even harsh. But again, it's only development art, but I do hope her parents are featured prominently in the series, because we've never seen the parents of an Avatar. Perhaps now that we've seen her dad, Korra's mum might appear in Korra Nation soon?
Legend of Korra clip
Big Korra Nation update, the first non-leaked clip of Legend of Korra! The clip is from chapter one, and features the Order of the White Lotus discovering that Korra is the Avatar! The caption released by Korra Nation;
"The White Lotus travel to a distant village to discover the new Avatar - Korra!
I'm blown away at the animation, it looks beautiful. I'm really excited to see how integral a part the Order of the White Lotus plays in Korra's journey, because the organisation has been one that I've always held great interest in. It's also great to see the parents of the Avatar for once, and Korra's belly jiggling about as she demonstrates her bending, adorable! The Track Team's score is also sounding incredible, and the series is looking fantastic!
I've screencapped the entire clip. You can see the images here. Feel free to use for whatever purpose.
Pro-bending clip
Previously released by Nick.com, Korra Nation has just posted a clip depicting Korra, [[Mako], and Bolin in a pro-bending arena fight, their team name being The Fire Ferrets. The following statement was issued;
"Korra and her team 'The Fire Ferrets' hit the pro-bending court with a vengeance!"
Unfortunately viewers outside of the United States are not able to view the video so I have not seen it, but as soon as an international version of the video appears online, I'll be sure to share and screencap it.
Link
| | | |
| --- | --- | --- |
| | Please stay civil. You should not harass other users or their views. | |
Ad blocker interference detected!
Wikia is a free-to-use site that makes money from advertising. We have a modified experience for viewers using ad blockers

Wikia is not accessible if you've made further modifications. Remove the custom ad blocker rule(s) and the page will load as expected.