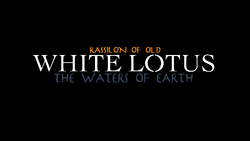 Some of you may have seen a new fanon I am working on, called
White Lotus
, now I don't want to reveal much, but there are two characters which I require names for, and since I am completely uncreative when it comes to names, I thought you could help me out, and that we'd make this a bit of a competition!
I have two characters that need naming, these are Zuko and Mai's son, and Sokka and Suki's son. Since they are both characters of high interest to you all (being the offspring of Avatar: The Last Airbender main characters), I thought that you might enjoy this. For more help, I'll provide a but more information about the characters and the fanon.
The series is set 54 years after Avatar: The Last Airbender, and Zuko and Mai's son is currently only a prince, as Zuko is still Fire Lord. Sokka and Suki's son is currently the chief of the Southern Water Tribe, with Sokka 'retired' in his old age. :P
So suggest your names, and I'll list them on the blog, then we'll have a vote on it! In the future, I might have this available as a feature for other uncreative writers when trying to name a character... Happy naming!
Name of Zuko and Mai's son
Name of Sokka and Suki's son
Please remember to stay civil. This means that you should not harass other users or their views.

---
Ad blocker interference detected!
Wikia is a free-to-use site that makes money from advertising. We have a modified experience for viewers using ad blockers

Wikia is not accessible if you've made further modifications. Remove the custom ad blocker rule(s) and the page will load as expected.