I know it's been a while since the finale, but there remains one plot point that does not sit well for me: Korra's sudden ability to airbend. Why? By my thinking it should be impossible.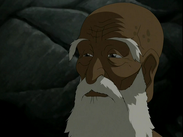 I've heard it said that because Korra had never airbent before, she hadn't yet "unlocked" the ability, thus when Amon took her bending he only took earth, water, and firebending because they were they only elements she knew how to bend. This seems to make sense, unless we consider this quote
"Even the separation of the four elements is an illusion. If you open your mind, you will see that all the elements are one, four parts of the same mold."
Guru Pathik's wisdom appears to explain how the Avatar is able to bend all four elements. It leads me to believe that the Avatar's power is not four separate powers, but one power, 'four parts of the same mold.' By that thinking, taking away one part of the Avatar's power would be the same as taking away all of the Avatar's powers.
That makes sense, doesn't it? Well, obviously not, because Korra is still magically airbending in the finale. So even with all this thinking, the creators can still do whatever they want (after all, it is their show).
Thanks for reading. If you've got a counter argument, I'd love to hear it in the comments.