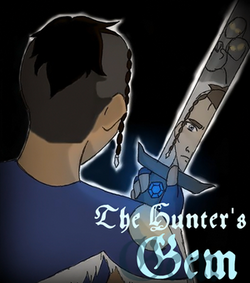 Hey, Avatar Wiki!
I'm introducing a upcoming fanon called The Hunter's Gem.
THG is based on Theavatardemotivator's Avatar|Future. You're gonna want to read the page so you can figure out the plot differences.
THG's prologue was recently sent to TAD for editing. If you want to get a message telling you that it came out, just tell me, and I'll add you to the subscribers list.
One thing I should tell you is that this fanon will be much better than my first fanon, The Avatar's Story. I'm working a lot harder on this fanon. Once I get the prologue back from TAD next week, I'm gonna rewrite, then send it to TAD oncemore, then publish it. For TAS, I'd write it, publish it, then Lostris would edit it. A lot. I'm working harder this time, and it will be better, I assure you. (Though not as good as TAD's or Lostris' writing.)
Firebender896 will be illustrating this fanon. I think that you all have heard of her recently featured fanon, and her awesome illustrations. :)
I hope that you guys will enjoy my fanon, and not underestimate it because of the mistakes I made in TAS.
When you look at the front page, don't forget to comment! [puppy eyes] Please? XD
And I guess that's all!
Ad blocker interference detected!
Wikia is a free-to-use site that makes money from advertising. We have a modified experience for viewers using ad blockers

Wikia is not accessible if you've made further modifications. Remove the custom ad blocker rule(s) and the page will load as expected.