Hi, PreservationsWings here. For my test review, I've chosen Mysteries of My Past, a fanon by the highly acclaimed author of Avatar: Guardian, The Bos. I hope you guys enjoy it! Before I start, I just want to explain my reviews to you.
Story: Here, I review the plot.
Creativity: Here is where I review how unique the story is.
Writing: In this section, I review how the author wrote things out. Is there any confusing spots, that kind of stuff.
Action: How good was the action? You'll find out here.
Reader Interest: You can find my rating on the interest level in readers of this fanon.
Believability: Was it realistic? Was it impossible? Here's that section.

Note: If I do get into the FRS, I will most likely change some of what I grade the fanon on.
Special Parts of My Reviews: Every review I do will have the logo of the fanon. If you don't have a logo, however, I won't be able to add it.
Now onto the review!
---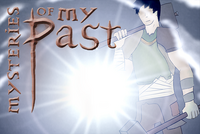 Overview: Mysteries of My Past follows the story of a amnesiac boy named Shenji, who is a soldier in the Earth Kingdom army. He and his best friend Kuro go about their soldier duties, until one day, they discover that a Fire Nation base is in construction. Their crazed general refuses to go destroy the base, however. But Shenji and Kuro can't just let a base be built. They desert the army, and that's when the adventure gets to the next level.
Before you read the scores, they may seem high, but Mysteries is a fanon who deserves them. Now on to the scores.
Story: Great job, Bos. You masterfully take your plotline, weave it with Avatar, then the result: Pure Awesomeness. 9.6/10
Creativity: A creative tale about a amnesiac and his Earthbending buddy. What's better than that? 9.6/10
Writing: Bos, you did great with the writing, and I'm sure your fans would say the same thing. 9.4/10
Action: Action in this fanon? The action is great, one of my favorite parts... Seriously. The action is AWESOME. 9.7/10
Reader Interest: This is one of the most interesting fanons I've read. It's about an amnesiac, for goodness sakes! 9.6/10
Believability: Nicely done. Sometimes how easily Shenji defeats people though is kind of unbelievable, though. 9.4/10
Average Score: 9.55
Advice For The Bos: It's kind of strange, me giving you advice, since you're the advice giver. And you're a way more experienced author than me. Well, my advice? Umm… Well, make it harder for Shenji. You did good with that in The Fugutive, and I want you to continue doing that. It's always best that way. :)
What kind of Users should read this fanon: People who enjoyed Guardian. It makes total sense. He is the Bos, after all. Besides that, people who like mysteries. Look at the title! "Mysteries of my Past." Mysteries. You'll be making theories the entire time, all the way til they are answered.
And that concludes my test review. Thanks for reading! -PreservationsWings
Ad blocker interference detected!
Wikia is a free-to-use site that makes money from advertising. We have a modified experience for viewers using ad blockers

Wikia is not accessible if you've made further modifications. Remove the custom ad blocker rule(s) and the page will load as expected.