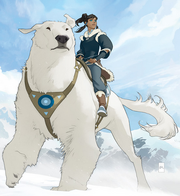 As we all know, Comic Con 2011 is coming to San Diego tomorrow afternoonat 4 PM PDT. There will be many old and new names appearing, for example, series co-creators Michael DiMartino and Bryan Konietzko will be attending along with the voice of Korra herself, Janet Varney. Among others expected to attend are Seychelle Gabriel (Asami), David Faustino (Mako), J. K. Simmons (Tenzin), and many more.
Expected events include:
An exclusive sneak peak of the series, as shown by the creators.
A signing of "The Lost Adventures" comic book.[1]
Wikia will be there tomorrow, expect an update blog by Kate.moon after the panel.
What do you expect to see tomorrow?