THIS CONTEST IS OVER
It's the season for contests so here's another one! After seeing the fanon and canon trivia contests, I decided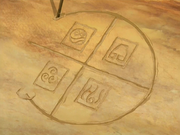 to do something a little different. The contest that I am making will be more of a writing contest. Below is all of the information.
The Contest
All right, today is the beginning of the contest. There will be several rounds of the contest all summer long, so if you miss out on one of the rounds you can make to the next one. Writers, start writing!
Round 1: Air
To see the entries for this contest go here. WINNER:
....and the winner is TAD! It was really hard to decide on a winner. You guys all did a great job. I read your entries, was surprised at how great they were, and cried a little. (I mean who can't cry after reading about the Air Nomad Genicide?) Round 2, as I have said, begins now. Also, I'm making a fanon page to display all of your great stories. =) Round 1 is over, but don't worry if you didn't win. See below for Round 2.

Round 1 was a writing contest concerning the Air Nomads. Here's the beginning of the story: Monk Gyatso watched in terror as the Fire Nation soldiers began throwing fire balls at the buildings in the Air Nomad temple. Lifting himself off the ground with an air ball, he hurried to find the other members of the Council of Elders. What could they do now?
All right contestants, you get to finish the story. The best writers from each round will get to compete against each other in Round 4: Fire. Have fun!
Note: Send me a message when you have completed your entry.
Entries:
5.Faith124
Round 2: Water
Round 2 is over. The winner of Round two was Sirius13. I really enjoyed reading all of your entries, guys. The fanon page will be updated soon so we can all see the entries. Aang and Katara have been married. After a few years of their marriage, Katara becomes pregnant. However, three months before the delivery, a problem arises.
Entries:
1.Sirius13
Round 3: Earth
Why didn't they understand her? Toph walked away from her home. "More like a prison," she said to herself. Why? That was the question. She wasn't as useless as they thought. Toph walked away towards Earth Rumble VI.
And the winner of Round 3 is....MightyBrit! I have to say that you all did very good. No wonder the fanon portal is so successful, with all these great writers....
The entries will be posted on the fanon page shortly.
Entries:
Round 4: Fire
Ok, so, before anyone kills me in desperation to win, allow me to say something. All of you guys did an awesome job!!
And here we go....
The winner...
Is...
Wait, do you really want to know?
Really?
Really?
Okay.
The winner is MightyBrit!!!!
There I said it, now please don't kill me. Please.
Sirius and TAD, you did great as well. However, I was impressed with MightBrit's creativity with his story. The entries will be posted as soon as possible, and I hope you like what you see. She screamed in fury. How could this be happening? Azula shook and trembled. She was supposed to win, not lose. They carried her away. An animal locked away in cage.
.
About
My contest will be a fanon contest. However, instead of letting different fanons compete, I will give a theme or an intro, and you all get to finish the story. I will choose the best stories, along with anyone that would like to judge. Let me know, on my talk page or in the comments area below, if you would like to be a judge.
Here's an example of what the contest will be like: Aang and Katara have been married. After a few years of their marriage, Katara becomes pregnant. However, three months before the delivery, a problem arises.
That's where you come in. All of the contestants can submit their version of the ending of the story. You can make it long or short, but to win, it has to be SUPER GOOD. Have fun, and don't bash each other's stories.
Rules
There are several guide lines I'd like to point out:
1. Don't be rude about other people's stories.
2. Limit one submission per user
3. Please make the story appropriate, and be sure it follows fanon policy.
4. Have fun!
5. Submit Your Entry: n.miranda@live.com
I Need You!
To make this contest work, you need to help. If you are interested, please leave comments. Thanks! The contest will be under way when I know enough people are willing to compete. Thanks!
Ad blocker interference detected!
Wikia is a free-to-use site that makes money from advertising. We have a modified experience for viewers using ad blockers

Wikia is not accessible if you've made further modifications. Remove the custom ad blocker rule(s) and the page will load as expected.