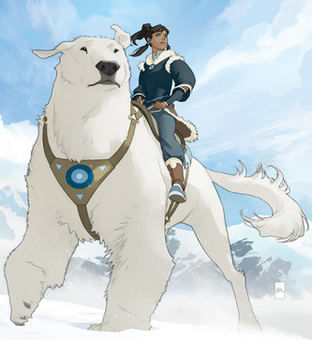 Greetings from the Avatar Wiki's resident Comic-Con 2011 attendee! I'm sorry this is so late but I wasn't sure whether I was going to link to a bunch of photos or external sources but I figure I might as well publish this in some fashion since it's all written up. Yes, I was at Comic-Con for all four days, but for me only two were at least somewhat Avatar- or Legend of Korra-centric. Unfortunately I did not arrive on time to make it to the "Character of Music" panel on Thursday featuring Jeremy Zuckerman and Ben Wynn, who had invited Mike and Bryan to sit on that panel as well.
Saturday, July 23, 2011
The Autograph Line
Saturday was the day I made a very emphatic point to get to the convention center early, since the two previous days my sister and didn't get there until the afternoon. The Legend of Korra panel was at 4:00, but that was far from the extent of the day's Avatar excitement. I learned the previous day that LOK was having an autograph session Saturday morning at 9:30, right when the showroom floor opens. The gentleman working the till at the Nickelodeon booth made a point to inform me of this when I bought my copy of Avatar: The Last Airbender: The Art of the Animated Series. I was able to get to the autograph line a little after 9:30 and there was already a line circling the booth. At the autograph table were Bryan Koneitzko, Michael Dimartino, Hyun-Ki Ryu, and Joaquim Dos Santos, in that order. I ended up waiting for over an hour, but it was worth it. The official Nickelodeon booth Korra cosplayer was there, and I asked her for a photo op.
I didn't get a chance to say much during the signings, but it was fun echanging what little banter I could. I asked Mike if he was looking forward to a big turnout of Avatar fans, and he told me that it's always greater than what they expect, so that was nice. Joaquim was kind enough to embellish the title page of my copy of The Art of Avatar with a little (or actually rather big) drawing of Aang. I spoke with him the most, and I jokingly wondered aloud if there would be any "guest appearances" during the panel. I was secretly hoping a couple of the voice actors would join since I saw a similar scenario at the Star Wars: The Old Republic panel, in which a couple of the game's voice actors came in as guest panelists. We exchanged playful shrugs and then I saluted and walked off.
I got some pretty cool stuff for being in the autograph line. My uninitiated sister was along for the ride, so I ended up with a signed poster along with my signed book, plus a couple Comic-Con exclusive Korra T-shirts. There was an Avatar: The Last Airbender Fan Gathering in one of the hotel conference rooms adjacent to the convention center which was scheduled for 11:00. Unfortunately I didn't get in. I got to the room at 11:15 and it was already at maximum capacity. My next destination would be the Korra Panel itself.
The Panel
I arrived at conference room where the panel was held more than three hours ahead of time, and so I got to sit through a couple of interesting panels: One featured a panel of voice actors, some of whom may have had bit parts in Avatar, and a Marvel panel where Clark Gregg, the actor who portrays Agent Coulsen in the Marvel movies, made an appearance.
Four PM arrived and thus began
the Panel
itself, and--well, you can watch it yourself on Youtube or read the transcript, but to be there—it was truly life-changing. "Why was this silly panel 'life-changing,' you ask?" I won't go into detail about what was discussed in the panel itself, but it was easily the biggest milestone in my short history as a fan of
Avatar: The Last Airbender.
Like everyone here, this series is something I'm really passionate about. I am newer to the series than most, however, and getting an update to the Avatar universe as big as this is a rare occasion and is the first since I became a fan. Even if I had not been at Comic-Con, it still would have been a huge occasion for me.
I learned a lot about the processes of creating such masterpieces as
Avatar
and
Legend of Korra
, and I've learned much more from what I've since read in the art book. I got to see other fans far more passionate and involved than I am. These were the people who wore costumes and used their phones to search for guitar instructions on how to play "Secret Tunnel," and "Four Seasons." (One dude actually dressed as Chong and brought a real guitar). And of course the most moving part was the trailer. Words really cannot describe experiencing it for the first time.
Sunday, July 24, 2011
The next day, Sunday, seemed like it would be a relatively Avatar-free day, but much to my surprise and extreme excitement, I got another opportunity to meet the creators. Mike and Bryan were standing just inside the entrance to the Con and appeared to be getting ready to leave. They were carrying bags containing several copies of The Art of the Animated Series, so I could be positively sure it was them. We exchanged a few words and I even took a photo with them (link). I discussed the topic of fan feedback they touched on during the panel, and I expressed my surprise at the amount of negativity they recieved. I told them I couldn't be further from this opinion and that I'm fully on board with the new series. Bryan reassured me that the naysayers were the "vocal minority," not that I didn't know already! It was the perfect way to signal the conclusion of my experiences at Comic-Con 2011. That day I also made the final addition to my collection of the elemental T-shirts produced in conjunction with the film. I was browsing a T-shirt vendor and randomly spotted the green Earth Kingdom T-shirt, which I've been unsuccessfully searching for in either a medium or large size. It was an XL but it was their last one and I couldn't pass it up!
So I couldn't have asked for a better experience, but next year may be far better. I'll speculate right now that The Last Airbender: Legend of Korra will premiere at Comic-Con 2012, which is July 12-15. Regardless I'll be there if at all possible to hopefully once-again endure a life-changing experience!
Ad blocker interference detected!
Wikia is a free-to-use site that makes money from advertising. We have a modified experience for viewers using ad blockers

Wikia is not accessible if you've made further modifications. Remove the custom ad blocker rule(s) and the page will load as expected.