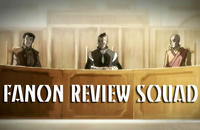 Do you like reading all kinds of fanon on Avatar Wiki? Helping others improve? Don't mind critiquing as a weekly gig? Then the
Fanon Review Squad
may be for you! With the recent resignation of two of our members, we are once again reaching out to the community and inviting candidates to submit test reviews for our evaluation. Here's the gist of it: 
HOW TO APPLY
Comment on this blog post to confirm yourself as an applicant. 
Create your own fanon test review of Heiress of the Nile by Lady Lostris in a blog post. You may refer to the FRS usergroup page for an idea of how these are made, though creativity is encouraged. 
Provide a link to your finished blog on the FRS talk page, under "June 2013 FRS Test Reviews."
Wait for the existing FRS members to evaluate the test reviews of you and your fellow applicants. They will select the best candidate based on a majority consensus. 

THINGS TO CONSIDER
Every reviewer will have a different style of scoring and critiquing. What's yours? We encourage you to provide us a little overview of who you are as a reviewer and what motivates your judgment before you jump into scores. 
Will you be able to stay as a long-term member if you join the FRS? Will you still be able to review during busy periods in your life? Consider this carefully before you apply. 
Always be very careful before criticizing anything about a fanon, and think of how it would reflect on yourself first. Authors are sensitive to their writing, and the goal of a review is to encourage them to improve. 
Stick to the point as you review; both vagueness and excessive rambling can be negative without focus. But most importantly, be helpful to the author and score as accurately as you can. 
Your review should reflect good knowledge of writing if you're going to convince someone to follow your advice, so quality and correct grammar are some useful things to consider as well. 

There is no set deadline for the test reviews at the moment, but punctuality is encouraged. Mageddon725, Typhoonmaster, and I hope to see you in this round of applications, and good luck! 
Ad blocker interference detected!
Wikia is a free-to-use site that makes money from advertising. We have a modified experience for viewers using ad blockers

Wikia is not accessible if you've made further modifications. Remove the custom ad blocker rule(s) and the page will load as expected.