This review was conducted by the

Fanon Review Squad

and reflects our best judgment of writing and fanon authorship quality. Please don't take offense if the review wasn't positive. We always give advice!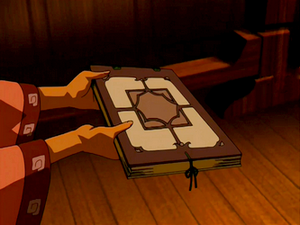 Today's review is Writings of Ai by RageOfFluffy.
Overview: It is 3 AG and the Air Nomads have been brought to tatters, the Fire Nation burns the world! Only few Airbenders remain, only few survive... One of these cases being Ai.
Ai believes himself to be the last Airbender left in this dark world, cursed to wander in the guise of a young Fire Nation writer. His search for hope takes many turns and twists along the way. During his travels, Ai will face many fears and desires and take a journey not only of flesh, but of spiritual growth and hope. Perhaps one day... One day he can unite a broken world...
Script: Excellently well done. Character thoughts are extremely in depth and well played out. 9.3/10
Story: Air Nomads before the War is a storyline that has been so far rarely explored. Ai takes the story of a nomad in exile and delivers. Well done. 9.3/10
Keeps You Reading: As one reader notes, you just breeze right through the chapters. 9.6/10
Character Development: Backstory is a feature of the story that contributes a lot. Bits and pieces of the main character are added little by little with every chapter. 9.4/10

General Writing: Quite well done. The description is detailed, the script is good, the characters are believable. My one piece of advice to you: keep writing. Maybe throw in a little action too, but that's just a thought on my part. 9.4/10
Overall: 9.4/10
Next Review: Avatar: The Legend of Teru
Ad blocker interference detected!
Wikia is a free-to-use site that makes money from advertising. We have a modified experience for viewers using ad blockers

Wikia is not accessible if you've made further modifications. Remove the custom ad blocker rule(s) and the page will load as expected.