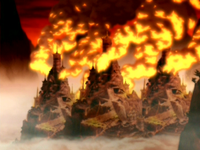 This weeks review, late again on account of me being at Prom, is When Air Nomads Walked the Earth, written by The Ultimate Waterbender.
This story details two young kids of the Air Nomads and Fire Nation in the weeks before the start of the War. Syra, an 11 year old girl from the Eastern Air Temple, and Siro, a 12 year old boy from the Fire Nation. These two individuals live out their lives in the perfect world we never saw in the series: one without warfare or politics or bitterness towards life.
Instead, they live out each day, accomplishing their own goals, living their own moments, making their own memories, just being happy in the world they live in. They are completely unaware, however, of the danger brewing behind the scenes as Sozin prepares his assault on the world. Simply by accident, the two learn of the approaching War and are dumbstruck to even think that their world could change from the peaceful utopia it is now to a war-torn battleground.
I've heard a lot about this series, and I was surprised at it's popularity considering that it is a relatively new fanon. When I read the story, however, I learned that it was certainly deserving of its attention when it draws you in from the first chapter and keeps you involved in the lives of these two young kids. The script is the best I've seen for a fanon this new, the description amazing, and the character develpment is nothing short of perfect.
I will certainly be among the many others following in the tale of these kid's lives as the War draws ever closer. I am so drawn into the personality and lives of Syra and Siro that I am a little apprhensive about how this story will eventually end. Nevertheless, this is a spectacular fanon, and I can see a promising future for The Ultimate Waterbender as an extraordinary fanon writer.
Story: A+
Keeps You Reading: A-
Creativity: A
Plot Twists: A-
Script: A
Character Development: A+
Overall: A
No offense is intended at all by the grades, this is only my opinion as a critic.
No review next week, as I'm taking a week off for my sixteenth birthday :)
Week After (May 1st): Rise of an Avatar by Carloso
Ad blocker interference detected!
Wikia is a free-to-use site that makes money from advertising. We have a modified experience for viewers using ad blockers

Wikia is not accessible if you've made further modifications. Remove the custom ad blocker rule(s) and the page will load as expected.