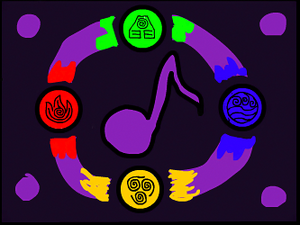 This week's review is The Avatar Rhythm, written by BlackMonkey
It tells the story of a teenage boy named Shirou who is born 224 years after Avatar: The Last Airbender. Shirou believes that a world without an Avatar would bring more peace. But as he's taught by various wise people throughout his journeys, Shirou learns of the Avatar Rhythm, the ever musical spiral of Avatars, and he must choose between his own satisfaction or world balance.
I originally had my doubts about reading this, but I've been proven wrong on so many levels when it comes to this story. I'd recommend this to anyone who wants a different and creative Avatar story.
Script: 9.2/10
Story: One plot twist left me in shock for a little bit. 9.4/10
Keeps You Reading: 9.1/10
Creativity: Can't say I've found a story where the main character is out to kill the Avatar. Very thoughtful and imaginative. 9.3/10
Action: In one sequence, it shows another character performing for the Fire Days festival. It was so well done that you could just see every move, every step happening in your mind. Breathtaking. 9.4/10
Character Development: I can just feel something building with Shirou and Hotaru. Especially when…never mind, I can't tell you! 9.3/10
General Writing: 9.2/10
Overall: 9.2/10
Next Week's Story: Avatar: Restart
No offense is meant by the scores, this is only my opinion as a reviewer.
Ad blocker interference detected!
Wikia is a free-to-use site that makes money from advertising. We have a modified experience for viewers using ad blockers

Wikia is not accessible if you've made further modifications. Remove the custom ad blocker rule(s) and the page will load as expected.