This review was conducted by the

Fanon Review Squad

and reflects our best judgment of writing and fanon authorship quality. Please don't take offense if the review wasn't positive. We always give advice!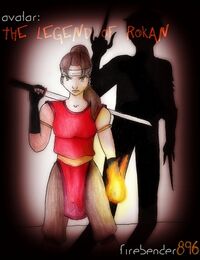 First off, I need to apologize Firebender896 for postponing her review. I appreciate her patience, and I'm glad to finally be able to review Avatar: The Legend of Rokan.
Overview:
The Fanon focuses on a Fire Nation girl named Rokan. Having recently lost her parents and brother in a terrible fire, Rokan has taken on a cover name and personality; a cold, mysterious character who takes the name of Zoai. The Legend of Rokan begins in the outer villages of the Earth Kingdom. Rokan (under the guise of Zoai) is slowly making her way through the Kingdom, for lack of anything better to do. However, she is making enemies quickly. Little can be forseen of her future; Rokan is hard pressed to make it through a single day without her life being threatened...
Script: I have nothing to suggest here. Rokan's sarcastic and attitude filled remarks are easy to imagine and expertly written. 9.3/10
Story: 9.4/10
Keeps You Reading: There was just something about it that made me want to continue. Firebender, whatever it is you're doing, keep doing it. You're guaranteed to have dedicated readers. 9.3/10
Creativity: 9.2/10
Character Development: Brilliant backstory and development. Any reader will be bonded to Rokan as the story goes on. 9.4/10
Action: In a sequence where a child is describing a fight, it was so well described, I could just see everything going on. Amazing description. 9.6/10
General Writing: I'll tell you right now that this is a different kind of story. Firebender896 takes your typical fanon story and turns it into a descriptive and imaginative story about a girl who revisions her life in the face of tragedy, all at the hands of her own nation. Amazing. 9.5/10
Overall: 9.3/10
Next Review: The Road that Never Ends