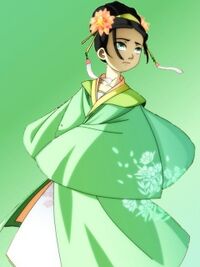 This week's review is Footsteps in the Dark, written by Metalarmor.
This, what I thought would be yet another recounting of the series through another character's eyes, is actually a brilliant retelling of Toph's life through a realistic setting. I was amazed at the detail that has gone into this story. If I didn't know any better, I would say that the author himself is blind, because the story is told so well that there is no doubt that you are smack in the middle of Toph's mind. This is a GREAT story.
Script: Kept almost word for word from the story. Anything added in is very well done. 9.2/10
Story: Certainly defines itself from the growing category of retold stories. 9.5/10
Keeps You Reading: A little hard to keep going, but other than that it is captivating. 9.1/10
Creativity: It is as if this story makes you blind and in Toph's shoes. It's that well done. 9.6/10
Action: 8.9/10
Character Development: Toph growing up, especially in the prologue, is very well written and believable. 9.2/10
General Writing: 9.3/10
Overall: 9.3/10
Next Week's Story: Avatar- Aftermath and Burning Earth
No offense is meant by the scores, this is only my opinion as a reviewer.
Ad blocker interference detected!
Wikia is a free-to-use site that makes money from advertising. We have a modified experience for viewers using ad blockers

Wikia is not accessible if you've made further modifications. Remove the custom ad blocker rule(s) and the page will load as expected.