This review was conducted by the

Fanon Review Squad

and reflects our best judgment of writing and fanon authorship quality. Please don't take offense if the review wasn't positive. We always give advice!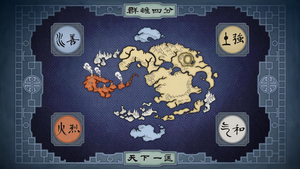 Today's much overdue review is Around the World (Again) by Aang20791.
Overview: An era of war and destruction has ended and since then, the gang has lived together peacefully in their old house located in Ba Sing Se. Both Katara and Sokka are longing to revisit the South Pole. Toph wants to see her parents, and Suki wants to revisit her old home, Kyoshi Island. And so, after a year of living in Ba Sing Se, they decided to do just that. Little did they know of an old villain seeking revenge against them.
Script: 9.1/10
Story: Takes the idea of a life after the War and gives it a new twist. Not as a journey to stop a new threat, at first, but simply revisiting the places that made their journey the amazing story it became. Easily one of the most original ideas I've seen for a fanon. 9.4/10
Keeps You Reading: There's some little "tug" that keeps you going throughout the story. There's room for improvement, but for now, Aang seems to have no problem keeping readers around. 9.3/10
Character Development/Representation: Perfectly captured. 9.7/10
Action: Gets to the point and describes what is going on, but there is definately room for improvement. 9.4/10
General Writing: Quite well done. After seeing a chapter with a whopping 137 comments, I knew I'd stumbled on a good story. It's getting better with every chapter, and I'll be looking around for when the story ends to see how wonderful it's become. 9.3/10
Overall: 9.4/10
Next "Triple Avatar" Review: The Last Airbender:The Last Avatars, Avatar: Daughter of Fire, Avatar: The Last Black Dude
Ad blocker interference detected!
Wikia is a free-to-use site that makes money from advertising. We have a modified experience for viewers using ad blockers

Wikia is not accessible if you've made further modifications. Remove the custom ad blocker rule(s) and the page will load as expected.