At least from my observant perspective the glicening new Metropolise's of Kora's time seems to be modeled after New York. That Central Park / Lower Manhatten shot and the Early 20th Century looking Suspencion and Iron Truss Bridges are pretty obvious. Even that Harbour entrance to what looks like A Hong Kong or Singapore type city displays a Statue of Aang like Lady Liberty.
This is alright as I wouldn't doubt Mr. Dimartino comes from an old New York Italian - American background. And of course both New York & Brooklyn both sport a good sized Chinatown.
But, I suppose I'm kind of partial to my nearby San Francisco, San Jose ( minus a waterfront ), and Oakland as far as major waterfront port cities that have one heck of an Asian American History and subsequent China and Japantowns attatched.
Indeed I'd love to see more references to the above mention Bay Area Cities as well as the beaucolic "Rural" Towns of the California Delta. Which small as they were and still are were very important to Pacific Rim History of Asian migration to the West Coast; Locke, Walnut Grove, Isleton ( Pat Morita's of Karate kid fame's hometown ), Courtland, and Rio Vista to name a few. And of course the Great Central Valley's Proud Shining Metropolis of Sacramento. Although having lost its' Chinatown for the exception of two or three blocks of buildings from Early 1970's redevelopment attempts sports one of the most powerful and influential groups of Asian Culture on the West Coast.
Sorry if I'm plugging a little too much for my own area, bad me.
There is that one shot that looks like Republic City could easily be inspire by Portland, Oregon or Seattle Washington as well.
Maybe it's a little bit of everything put together. Which is what Mr. Dimartino wants. Although, I would love to see bender powered drawbridge on an elseworld River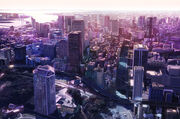 Delta.
Ad blocker interference detected!
Wikia is a free-to-use site that makes money from advertising. We have a modified experience for viewers using ad blockers

Wikia is not accessible if you've made further modifications. Remove the custom ad blocker rule(s) and the page will load as expected.