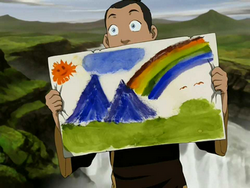 The Picture Parade, a user group dedicated to the improvement of image quality and use on Avatar Wiki, has been out of shape for longer than a while. Although the group has been semi-active for the past few months, its members have nearly all gone inactive. In fact, RageOfFluffy and I are the only ones from before this relaunch without inactive templates on our user pages.
In the hopes of reviving the user group, Unnamed Airbender has contacted me and asked for me to make this blog to inform the wiki that the Picture Parade is reopening its doors. It's not that they were ever really closed, but that they may as well have been considering all of the good it has been doing.
So, the user group will be looking forward to any requests from willing and eligible members of the community. The only real rules once you've been accepted are that you remain active in general on the wiki, especially in the area of images. Also, we will look into your contributions to see if you've done a considerable amount of work in the upkeep of images on articles before any decision is made.
Any more information you need should be on the group's homepage, but if not you may message me or Unnamed Airbender.
Thank you for reading through all of my babble and I hope to see some of you sign up!
Ad blocker interference detected!
Wikia is a free-to-use site that makes money from advertising. We have a modified experience for viewers using ad blockers

Wikia is not accessible if you've made further modifications. Remove the custom ad blocker rule(s) and the page will load as expected.