Finished! Till next summer.......
What Is the Tour de ATLA?
Welcome fellow Wikians! I present to you the Tour de ATLA! As you can clearly see, this is something like the famous Tour de France. I bet you're wondering: What is this? Well that's what I'm going to tell you!
The Tour de ATLA is mainly a tour of Avatar the Last Airbender. There'll be teams of Wikians that will earn points to win. You'll earn points by answering questions based on the show you love most....Avatar! Each trivia question will be worth an amount of points and will be posted on the comment part of this blog. The points correspond to miles. If your team answers a question correct, your team advances that many miles. Unllike in the actual Tour de France where bikers ride a number of miles to the finish, teams will answer questions to the finish. The Tour de ATLA will start once each team has at least 6 players. Let the smartest team reach the finish!
Rules
Play by the rules
Don't cheat (Do not edit your answers once they are posted)
Do NOT bribe, black-mail, or blame'
Don't be rude to other participants and teams
Be respectful and kind
Gladly allow Wikians if they want to be on your team
Remeber that only your team is allowed in your teams locker room, no one from another team
Commenting that is not answers to trivia questions is prohibited once the game starts
To chat go to the Tour's chatting blog where all teams can chat
Have fun!! :)
(Watch out.....Lin is watching your every unlawful move....)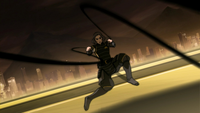 Consequences of Foul Action
If any of the rules are broken, subject will be eliminated and banned from the game or team. Inappropriate content will not be tolerated.
How To Win
The first team to reach the finish of 300 miles/points will win the Tour de ATLA and will have the title of ATLA Masters! There will be 4 stages and in each an amount of questions with a variety of points. When your team earns those point, they advance that many miles an so on.
Rules of Grammar
For places and characters they should be capitalized because they're proper nouns. The others don't have to be that specific, since they're regular words. When we do an unscrambling trivia you should be extremely specific, meaning that writing the word "the" would decide who got the question right. Since it's unscrambling and if there wasn't any letters to spell "the" then it's not right
Here are the stages
Characters
This section of questions is on the charcters of ATLA
Places
This section of questions is on places in ATLA
Spirits and Bending
This section of questions is on the spirits and bending of ATLA
Glitches
This section of questions is on glitches from the episodes of ATLA
At the end of the game there will be a post game. In the post game all captains and co-captains play against each other to win bonus points for their teams. With all the points I will announce the winner! The post round will give teams that are behind a chance to catch up.
The Coolest Locker Room Award!
This award will go to the team with the most awesome locker room. Try to suprise me with snacks and movies. You can be humorous with pictures and games. To me, the best locker room is one that makes you feel welcome. Go ahead and welcome you teammates! Good luck!
Rules
Please DO NOT copy other's ideas without the creator's permission
Don't veiw other locker rooms to steal ideas
Have fun and be creative :)
And the winner is...
THE KYOSHI WARRIORS!!!!!
How To Enter A Team
To enter a team go to the team names below and press"Join Team", place your name under the title of the "team" on the page. If you want to be the team captain of a group report to me on my message wall, I will choose. If there is a captain and you still want to lead somehow, you can ask me to be a co-captain. Being co-captain means that you will assist the captain and make decisions that the captain has to agree to. Show the captains respect! I am the team captain of the Waterbending Prodigies even thought I am not participating due to the fact that I am the host. Don't jump to conclusions, I will NOT be giving them any special treatment. All teams will be treated fairly. I just want to be on the team because I'm a naturaly born waterbender! :) Team captains are in charge of making a meeting place for their team on a blog. Make sure the name of the blog reads the team name and the Tour de ATLA. I'll be making a blog for the Waterbending Prodigies once more people join.....
Teams
Have been removed....
Points, Reach 300 to Win!! The Winner is: Waterbending Prodigies
Waterbending Prodigies 1st
Points: 300
Miles Biked: 300
Miles Left: 0
Flameo Hotman 4th
Points: 85
Miles Biked: 85
Miles Left: 227
Kyoshi Warriors 3rd
Points: 122
Miles Biked: 122
Miles Left: 68
Swirling Nomads 2nd
Points: 184
Miles Biked: 184
Miles Left: 116
Special Ones 5th
Points: 58
Miles Biked: 58
Miles Left: 242
Mascots
Every team can have a mascot. The mascot must be a character from any Avatar series and has to correspond to the element of your team. When you obtain a mascot report to me with a picture and I will post it in your team's userbox. All userboxes are brought to you by Sokka jr! :)
Let's Get Our Avatar On!!
Here is the user box for the entire Tour de ATLA. All memebers must have it. (Once again brought to you by, Sokka jr!)
| | |
| --- | --- |
| | This user participated in the Tour de ATLA hosted by Kat. |
A meeting has taken place. All Captains and Co-Captains click here! Thank you!
Also if you want to talk among team memebers for the Tour click here! The "here" is the meeting that had taken place on Sunday and it's there where you can comment during the game.
The category is:
Finished
This game has been fun to host, thank you!