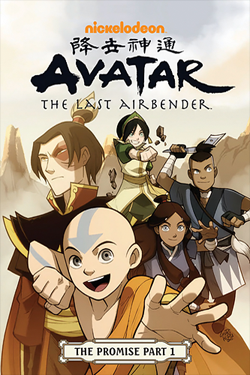 We have some AWESOME news for you, Avatar fans! After reading Uiop60's awesome blogs about Gene Luen Yang and The Promise, I also got in touch with Gene Yang and he very kindly agreed to do an exclusive interview for Avatar Wiki!
Gene Yang is also a user of Avatar Wiki and now follows @AvatarWiki and @WikiaAnime, which we couldn't be more thrilled about.
Since we have such an amazing chance to pick his brains about The Promise, we wanted to give the Avatar Wiki community a chance to ask Gene Yang a few questions about his work for Avatar.
Please consider some burning questions you may have about The Promise, and comment below! Although Gene Yang may not be able to answer completely spoiler-y questions, maybe he'll be able to hint at what we can expect from the link between Aang's world and Korra's world.
Ideally, we want to compile some of the best questions to ask Gene Yang, and we'll hold a community vote so that everyone's voice will be heard.
As a huge fan of Avatar: The Last Airbender myself, I can't wait to speak with him, and we hope that everyone is equally excited about this opportunity!
Update
The interview will be next Thursday, December 8. We plan to ask Gene Yang about 10 questions (might be a little more or less, depending on the questions) and we want everyone in the community to have an equal say on which questions will be featured.
Please continue to post your questions until the END OF MONDAY. On TUESDAY, we would like to hold a community vote as to which questions will be asked.
We are looking for thoughtful, unique questions, and value the opinions of our Avatar Wiki community.
| | | |
| --- | --- | --- |
| | Please stay civil. You should not harass other users or their views. | |
Ad blocker interference detected!
Wikia is a free-to-use site that makes money from advertising. We have a modified experience for viewers using ad blockers

Wikia is not accessible if you've made further modifications. Remove the custom ad blocker rule(s) and the page will load as expected.