Hey Avatar Wikians!
A couple of weeks ago, I announced that I would be attending a Gene Luen Yang book signing for The Promise. We got THREE books: The Lost Adventures, The Art of the Animated Series AND a signed copy of The Promise!
We're planning on giving these books away in a special Avatar: The Last Airbender caption contest!
The contest is now CLOSED! Thanks to everyone for entering and congratulations to our winners User:T-_AvatarFan (1st prize); User:The Bos (2nd prize); and User:Destiny of Awe (3rd prize)!
The winners were chosen at random and I will be contacting them individually! Congratulations and thanks for entering!
How To Enter
First, create an account!
Create your own captions for the characters in the image below!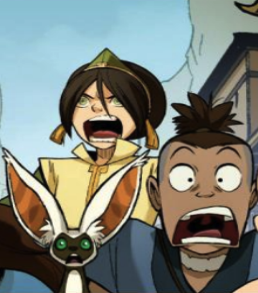 NOTE: You must leave a logged in comment to win!
Rules
Must be 18 or older OR have a parent or guardian's permission to win. Check out the official rules for details. Three winners will be randomly selected from all eligible entries. US & UK only.
First Prize: Signed Avatar: The Promise
Second Prize: The Art of the Animated Series
Third Prize: The Lost Adventures

Contest ends February 29, 2012.
Share The Contest!