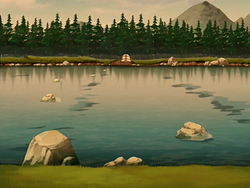 Today, I'm interviewing Snip101, author of The Death of Her Savior, a oneshot.
Q1: Hey Snip! How are you doing this fine day?
Hey, Humble! I'm doing great actually!
Q2: What inspired you to write this story?
Umm, I don't really know what inspired me. It was probably something in my subconscious that trigger the idea.
Q3: Is this story simply a oneshot or apart of a series of oneshots?
I'm planning on making a series of oneshots entitled, Tales of the Earth Kingdom. But I plan on changing the name to Tales of the Avatar World because I would like to expand on the locations the stories take place.
Q4: Have you written stories like this before? If so, on or off the wiki?
No I haven't. This is the first time I've written anything like this. The wiki is what got me writing fan-fiction.
Q5: The story is written is such great detail. Were there any writers that inspired you to write this way, or just simply from your usual writing style?
There's one author is paticular. Edgar Allen Poe inspired me to write the ending the way I did and use some of the words I do.
Q6: What other stories do you have planned?
I have a one-shot planned that is about a young homeless boy in Rebuplic City during the events of Amon's attacks. Also, I'm in the midst of mapping out a story about a musician in 99 AG Ba Sing Se.
Q7: Do you plan to write other stories like this?
Well, I don't plan to write a lot of nature based fanon that involves fauna like this. But I do intend on continuing the series.
Q8: Any fanons to reccomend?
I recommend reading Political Animals by Omashu Rocks. It had me up until midnight reading chapter after chapter.
Q9: Last but not least, are you a fan of any fanons out there?
I'm a big fan of Blue Dagger's Dancing Shadows. I really don't like action fanons but this one had me laughing and in suspense at the same time.
Q10: Thanks for answering the questions!
Your welcome! And thank you for interviewing me!
Ad blocker interference detected!
Wikia is a free-to-use site that makes money from advertising. We have a modified experience for viewers using ad blockers

Wikia is not accessible if you've made further modifications. Remove the custom ad blocker rule(s) and the page will load as expected.