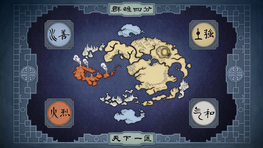 I was thinking and I came up with this queasion about our world and the world of avatar. Where is the equater???wher is it? I mean as we all know -or should know - is that going right through the center of the earth is the equator which shows where and why its so hot or cold or in between.
I hope you get were in getting at this because if you don't you might as well quite reading.
You see the fire nation is at the far west and the earthkingdom is in the east at lest on our flat map. how is that possible?
so i hope you try and compare our world with there world when you think abuot it