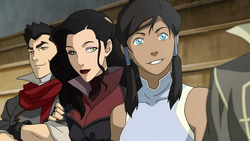 Hey all Avatar wiki users! It's been quite a long year, hasn't it? But it's finally come to a close. I wanted to thank everybody who helps and contributes to this wiki, including you, yes you !
So in order to do that, I've created user appreciation month! It's a new user event, think kind of like a combination between the cabbaggies and the user awards (if any of you remember those, if not, don't worry!). In it, each user can write in the comments another user that they appreciate, and something that they did to show appreciation!
As the month progresses, I'll update the list to show who thanks who and why. Keep in mind that this is supposed to be showing your appreciation to your fellow users, so while it might be cool to thank Batman for fighting crime, or your kitten for being cute, please keep the thanks to on-wiki users! Feel free to be creative with your thanks and go nuts, spread the love! The more the merrier! If you can't think of somebody or something to thank, feel free to just second a thanks somebody else has given.
In reward for participating in the user appreciation month, you'll get a neat little userbox, where you can put in somebody who thanked you and what they thanked you for! If nobody thanks you individually, don't worry! I'm giving all of you my thanks for participating this month, and you can use that instead. If more than three users thank you, you can just add many instead of a single user to save space.
This is what it will look like!
| | |
| --- | --- |
| | FireFerret appreciated this user for participating in user appreciation month. |
Any nominations / thanks will be added to this post underneath the following cut as the month progresses, I'll be updating it whenever I'm online and see a new comment. Thanks so much for all you've done this month, have happy holidays and an amazing new year =)
Users Thanked
FireFerret
FireFerret would like to thank:
for participating in User Appreciation Month.
Lady Lostris for keeping the wiki ongoing and constantly editing, even in times with fewer users and content.
Minnichi and AvatarRokusGhost for working to put out BSST updates!
TechFilmer, Tono555, and all other regular editors for helping to keep the wiki up and running.
AvatarRokus Ghost
AvatarRokusGhost thanks:
FireFerret for putting this event together for all of us :)
KettleMeetPot for his acts of online coding sorcery, doing all sorts of things on here that a coding layperson like myself would never imagine were possible otherwise.
Agent Slash for sticking around so long and writing so many stories, which [they] have regretfully not delved into much [them]self. The fanon side of the wiki community is made by its authors, and Slash has given the portal several completed series so far. Even finishing one project is hard enough, so this persistence and achievement should not go unnoticed.
TechFilmer
Neo Bahamut
Neo Bahamut thanks:
Deist Zealot & HolyDragon2808 for providing [them] hours of entertainment from the bizarre dregs of Tumblr, & for their input whenever someone shows up & starts ranting about lesbians being shoved down their throat (that's what SHE saiiid!). It's quite possibly the only thing that keeps [them] let's call it sane.
Lady Lostris for editing the formatting of [their] fanon chapters, which somehow never seem to do what they're supposed to. But the commas are totally where they're supposed to be. And also for just being generally helpful. She has the dubious distinction of being the admin [they] go to for pretty much anything, because she's the only one [they] know is active at any given time.
Bomochu for reviewing said story, & remaining interested in it even afterward. [They] can't really tell how many readers it actually has, so it's always nice to hear that [they're] not just yammering into the void. In fact, if you read it, & [they] don't know, consider this an honorary thanks to you too.
Tono555 for providing [them] with those collapsible tables, because they've been so instrumental to keeping it readable.
Korra2000 for her Turf Wars discussion threads. Those comics have for a while been what [they're] most interested in regarding the franchise, so it's nice to have a place where [they] can find news [they] couldn't ordinarily keep up with, & people who want to talk about them. Now if only Amazon would send them to [them] in a timely fashion.
Thailog for for convincing [them] to start watching Young Justice. [They]'ve enjoyed it quite a bit. Though part of [them] still thinks [they] should have waited at least until the 3rd season started airing. Yeah, [they] know that doesn't really have to do with the Wiki, but still.
Agent Slash
Agent Slash thanks:
FireFerret for making this blog post and therefore bringing some unity to the community!
Everyone who works on a daily basis to keep this community active and who make this wiki one of the best and exemplary wikis on the web.
Tono555
Tono555 thanks:
Ad blocker interference detected!
Wikia is a free-to-use site that makes money from advertising. We have a modified experience for viewers using ad blockers

Wikia is not accessible if you've made further modifications. Remove the custom ad blocker rule(s) and the page will load as expected.