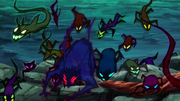 As we all know today was SDCC 2012, and Bryke has released a bunch of information on season 2! I'm not so good at summarizing things, so I'll just make a list of everything we learned.
News
Book 2 is called Spirits
Book 2 takes place six months after Book 1: Air
The Book begins with a festival in the Southern Water Tribe
The Southern Water Tribe has been rebuilt just like the Northern One
Each member the group gets polar outfits.
The Southern Air Temple and other ancient Air Temple sites WILL be visited.
Asami has taken over Future Industries, and has a business outfit
More info on Kya, whose favorite song is "Secret Tunnel". She's a bit of a hippie and has a special bond with Jinora
Kya and Bumi also get winter garb.
We will meet Unalaq, Korra's uncle, who is the Chief of the Northern Water Tribe.
We will meet Unalaq's twins, a boy and a girl.
We'll find out more about Korra's family, and about the history of the different tribes.
There's no shortage of spirits this season.
Mako becomes a cop.
The Pro-bending crowds are the voices of the people at the Korra panel in SDCC 2012
Bolin will get a love interest, and has a bizarre love story.
Unlike Mako and Korra, Bolin still plays for the Fire Ferrets' pro-bending team
We will meet Verick, a captain industry residing in the Southern Water Tribe and a friend of Bolin's.
The voice actor of Azula confirmed that she will be returning to voice a character called "The Dark Spirit" (Thanks Random Ranaun and 115.166.11.4!)
Images from Coimc-Con:
(New Korra Outfit)— Korra
(Young Tonraq)(Tonraq facial expressions)(Regular Tonraq)— Tonraq
(Senna)(Winter Senna)— Senna
(New Mako)— Mako
(New Bolin)— Bolin
(New Asami Look)(Asami as a Pilot)— Asami
(New Tenzin)— Tenzin
(New Bumi)(Bumi Facial Expressions)— Bumi
(Unalaq)(Unalaq Facial Expressions)— Unalaq
(Unalaq's son Winter)(Unalaq's son)— Unalaq's son (Denzna [I think his name was])
(Unalaq's daughter winter)(Unalaq's Daughter's Facial Expressions)(Unalaq's daughter)— Unalaq's daughter
(Verick winter)(Verick Facial Expressions)(Verick)— Verick
(Kya)— Kya
(Angle 1)(Trap Door)(Angle 2) (Angle 3)— Southern Air Temple
(Angle 1)(Angle 2)(Angle 3)— Festival
(Angle 1)(Zoomed up)(Angle 2)— Spiritual Energy source
(Spirit World)— Spirit World
(Gaang)(Krew)— Autographable posters
The Entire LoK SDCC 2012 Panel
[1] (Part 1 of the 4 part playlist)
Videos:
[2] (A sort of "Where are they now" vid. Bolin is the leader of the Fire Ferrets, Korra is still training, Mako is a cop and Asami is leading future industries)
[3] (Legend of Korra table read)
[4] (Interview with the creators and Team Avatar's voice actors)
[5] (The Korra cast answers fan questions)
[6] (Released character art + commentary from Bryke)
[7] (nterview with PJ Byrne, voice of Bolin)
NOTE: This blog WILL be updated as time moves along. Also, please add links to images or videos not included; it'd be very appreciated.
| | | |
| --- | --- | --- |
| | Please stay civil. You should not harass other users or their views. | |
Ad blocker interference detected!
Wikia is a free-to-use site that makes money from advertising. We have a modified experience for viewers using ad blockers

Wikia is not accessible if you've made further modifications. Remove the custom ad blocker rule(s) and the page will load as expected.