Okay for those who don't know I've recently started another fanon entitled
Rise of an Crusader
. This may be confusing for some as infact this new series will have tie-ins with the already existing
Rise of an Avatar
. Also some people will most likely wonder why I would create this so abruptly. The answer is many things: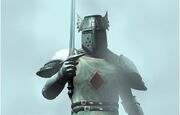 I want to see what you think of it ahead of time
I want to see if you can guess how these fanons are related
I want to put it up early as seeing on wiki is much better than on a word document
I want to also say this will not interfere with updates for ROA, this is simply a side project I will be working on every now and again. I am only putting it up now to see peoples reactions. Will they be of joy and happiness or will they simply want to throw their hard drives out of the window (hopefully the first one) So just tell me what you think and I will answer any questions best I can.

Thank you The Crimson Dragon 00:12, September 25, 2010 (UTC)
Ad blocker interference detected!
Wikia is a free-to-use site that makes money from advertising. We have a modified experience for viewers using ad blockers

Wikia is not accessible if you've made further modifications. Remove the custom ad blocker rule(s) and the page will load as expected.