This review was conducted by the

Fanon Review Squad

and reflects our best judgment of writing and fanon authorship quality. Please don't take offense if the review wasn't positive. We always give advice!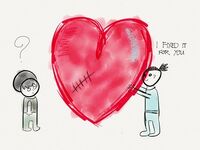 They fight and claw, desperate to be seen, to be heard. The wretched display of emotion can do nought but pray and hope for acknowledgment, for isn't that what all things want? From the tiniest mosquito-wasp, to the great Lion Turtle, all creatures want that simple voice, the one that can scream in the night and say, "Notice me, for I am here!"
My Meathead is a one-shot written by Fruipit: and let it be known that this is one amazing one-shot.
One-shot in Review (Scores out of 5.0)
Writing - 5.0: My Meathead is a poetic one-shot written by the esteemed Fruipit, who never disappoints in the language department. My Meathead is filled with poetic lines and focuses, dealing with love, acceptance, and much more. The way the story flows feels like an expertly written account by the speaker, Toph, and should be read aloud to simply do it justice. Nothing to go on about here: it's simply brilliant.
Content - 4.9: I love this, this idea, just everything about it. I fancy these writing styles, simply because I loved story telling since I learned to read and comprehend as a child. Stories have always enticed me when they're written like My Meathead, and I love every second of it. I only wish it could've been longer; I didn't want it to end! But then again, it's a serious testament to the author when a short story has this effect.
Comprehension - 4.8 Once again, I love this one-shot. It's constructed creatively, the style is awesome, and I enjoyed having the pleasure to read it. I feel like reading it aloud gives it more justice than merely reading it to yourself... like this is a self-account that someone anonymously reads at a coffee shop on poetry night.
Personal Thoughts
I loved it. Period.
I knew Fruipit's style going into this, but this just proves her capability as an author.
I really liked the narrative account aspect of the story-telling.
Advice for the Author
I honestly have none to give you: this one-shot was amazing.
Community
Please, do yourself a favor and read this. That's all it'll take.
Ad blocker interference detected!
Wikia is a free-to-use site that makes money from advertising. We have a modified experience for viewers using ad blockers

Wikia is not accessible if you've made further modifications. Remove the custom ad blocker rule(s) and the page will load as expected.