This review was conducted by the

Fanon Review Squad

and reflects our best judgment of writing and fanon authorship quality. Please don't take offense if the review wasn't positive. We always give advice!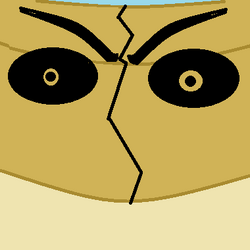 Hello, this is BlackMonkey, signing in to review Rebel by Azulazulazula.
The series centers around a young man (16 years of age) who was once imprisoned in Ba Sing Se. However, he breaks free of his imprisonment, and is determined to break free of his mental chains (Ba Sing Se). So, he runs away from the city, and tries to find a new place to live. Alone. And along the way, he encounters many adventures.
From when I read the first chapter, I was amazed at the writing of this clever story. Not only because of the quality, but part of it was because of the writing style; Azulazulazula's deep, poetic, solemn yet inspiring way of telling the adventures of Jong. I think her way of telling this kind of story is the best way someone could have, at least, that's what I believe, with great side notes of romance, action, and a thoughtful backstory. Don't underestimate Rebel.
Scores:
Story - 9.2: I liked this. As Team Avatar's story went on, Jong was experiencing an intellectual adventure that I think he has to take in order to find his true inner self. Restriction angers. Freedom corrupts. I love this story.
Action - 8.0: There wasn't much action, but as stated on the main page, Rebel is not an action story. The action we got was pretty good, and there were definitely chapters that left me hanging to find out more.
Writing - 9.6: Poetry. This deep, somber, soothing way of writing was at the peak of my expectations. Unbelievable.
Creativity - 9.1: Great. If something like this has been done before, it's not as good as Rebel.
Believability - 8.8: - It's good, although Jong and Partida's relationship may have moved a little quickly, and they may have got into Omashu a little too easily. Just my opinion.
Character Development - 9.3: As Jong learns about himself he has to cope with his beautiful love with Partida, I think her part in his journey was meant to happen - she was needed to help Jong find himself.
Average Score: 9.0
Note: All scores are out of ten
Advice for Azulazulazula: Alright, to start this off, I am deeply sorry for the long delay this review has gone through. Alright. I got that over with. As for your story, it's great. Keep doing what you're doing. If you want to add some more action, I think you might get more fans, but again, it's not an action story, so don't worry about it.
What kind of users should read Rebel? Want a deep, extremely well written adventure that occurs while Book 2: Earth is ending? Want to know what was going on in Si Wong Desert or in the swamp while Team Avatar was coping with the Dai Li in Ba Sing Se? Want to know how these two adventures are connected in an amazing story. Read Rebel. That was a command.
Ad blocker interference detected!
Wikia is a free-to-use site that makes money from advertising. We have a modified experience for viewers using ad blockers

Wikia is not accessible if you've made further modifications. Remove the custom ad blocker rule(s) and the page will load as expected.