This review was conducted by the

Fanon Review Squad

and reflects our best judgment of writing and fanon authorship quality. Please don't take offense if the review wasn't positive. We always give advice!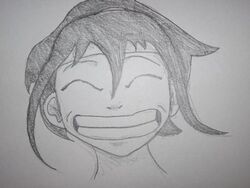 Hello, this is BlackMonkey, signing in to review Avatar: The Legend of Rokan by Firebender896.
This fanon follows the adventure of a Fire Nation girl named Rokan. Having recently lost her parents and brother in a terrible fire, Rokan has taken on a cover name and personality; a cold, mysterious character who takes the name of Zoai. The Legend of Rokan begins in the outer villages of the Earth Kingdom. Rokan (under the guise of Zoai) is slowly making her way through the Kingdom, for lack of anything better to do. However, she is making enemies quickly. Little can be forseen of her future; Rokan is hard pressed to make it through a single day without her life being threatened...
I was extremely excited to read this. Now, I am extremely satisfied. I didn't expect it from Firebender896, but now I will never underestimate her again. This was amazing, from the writing, to the story, to the awesome illustrations. So many thoughts and complexes run through every chapter. If you haven't read this, you're missing something big.
Scores:
Story - 9.4: Some chapters were a bit short, some needed more action, but all stayed to one amazing story, and out of the finished ones, none seemed out of place.
Action - 9.2: As I said, some chapters need action, but one you get it, it's amazing.
Writing - 9.5: I'm speechless.
Creativity - 9.1: There's definitely stuff like this out there, but I have never seen anything this good before.
Believability - 9.0: Nothing really to say here, everything was alright.
Character Development - 9.6: After Someone Else's Memories, I felt more feelings for Rokan than many highly acclaimed fanon characters across the wiki. Her character is so complex, so badass, I love her.
Average Score: 9.3
Note: All scores are out of ten
Advice for Firebender896: First things first. This is an amazing fanon, so don't stop writing it. Some chapters are a bit short - make sure that there's action in every one, even a little is fine. My advice to all writers is just to reread the chapter in preview mode before it's published, and when you see a mistake or something that sounds weird, change it. There was nothing that bad that really stuck out to me.
What kind of users should read Avatar: The Legend of Rokan? People who love awesome writing, rebels, refugees, the effects of what being on the bad side is like, even if you aren't bad. Anyone will love it.
Next Review: Avatar Brek
Ad blocker interference detected!
Wikia is a free-to-use site that makes money from advertising. We have a modified experience for viewers using ad blockers

Wikia is not accessible if you've made further modifications. Remove the custom ad blocker rule(s) and the page will load as expected.