Hello everyone when first of avatar the last airbender i did not know anything about i thought it was just a reguler cartoon you see every day and i thought it would be like a show you would see as random and never thought it would this awosome and great and i cannot beleve when i saw the very first episode in my mom and dads room i was hooked, I loved the plot and everything about it I wacthed episode after episode and I loved the drawings and how fun anng was and how funny sokka was and katara was my favorite character. after the first episode of the show I was just a small fan but when i wacthed more i became more obssed and browse on the internet about avatar stuff and wacthing more and more the more wacthed the episodes the more I love the series. My mom said it was okay and my sister never got into it but I do not understand why they would'nt I mean they should atleast give it a chance.
So when it was the episode the Swamp my sister and I wacthed it together and she liked it but I loved it I told her more about the chacters that I have watched so far and what was the perpose of the show and she liked it a little better and she liked it a little bit better but not loved it, But she did not hate it so thats good. and I have and always will love this show I am a true avatar Fan and always will be.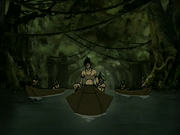 Ad blocker interference detected!
Wikia is a free-to-use site that makes money from advertising. We have a modified experience for viewers using ad blockers

Wikia is not accessible if you've made further modifications. Remove the custom ad blocker rule(s) and the page will load as expected.