Shameless self-promotion time. A reading of my poem, 'Gallantly Garrulous' -A Tale in Epic Rhyme. Guaranteed to put a smile on your face.
"All it takes is an idea and a dream."
— Hiroshi Sato
"All dreams can come true if we have the courage to pursue them."
— Walt Disney
About wordbender
Edit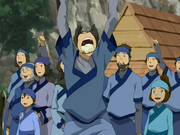 Greetings, all! First a little about myself -I like to read, I aspire to master the incredible art of wordbending, I'm a die-hard Avatard and can often be found wearing ludicrously high high-tops. Hello and nice to meet you.
I've been an Avatar fan since my best friend forced me to borrow her copy of Book 1: Water. At the time, I did not have the heart to tell her I was far too grown up for cartoons, so I took it and, just to say I did, started watching it. As you can guess, I was quickly hooked.
I'm not only a fan of the series, but apparently I'm also something of a Bryke fangirl, as well. Bryan Konietzko and Michael DiMartino are, I think, two of the five most creative people of all time.
I joined this wiki because I have wanted to write a fanfiction for about four years and this seemed a good place to do it. I like that, as a user, I have a blog space, which I plan to use for a running commentary on my fanon, Air, so be sure to check it out. I promise, I'll entertain you. ;)
I look forward to reading your fanons and getting to know people. I like people. People are fun. XD
Current Obsessions
Edit
Tenzin and Lin Beifong are awesome. I love the hard core trio, and I'm starting to like Asami (even if I don't entirely trust her), but Tenzin and Lin are awesome!
Person of Interest. I love this show. I still haven't seen the first half of the season, much to my chagrin. In a totally unexpected but pleasant twist, Fusco has quickly jumped from that-slimeball-who's-unfortunate-predicament-greatly-amuses-me to one of my favorite characters. Huzzah for character development!
Rumpelstiltskin of Once Upon a Time. Don't get me wrong; the show itself is good, but it is for Rumpel's story that I settle in every week with that flutter of anticipation. ...stop looking at me like that. I know you've got one of those little guilty pleasures too.
Dawn by Poets of the Fall. I only recently discovered PotF and they are incredible. This song is simply beautiful.
My Fanons
Edit
| | |
| --- | --- |
| | This user is the author of Air. |
Avatar Aang and Fire Lord Zuko have worked hard to maintain the long lasting -if at times unsteady- world peace. And for twelve years, despite skirmishes and trials, they have succeeded.
Until now.
Rebels stir. Allies are questioned. Spies and assassins skulk the halls of the Royal Fire Palace, and a shadow haunts the heart of Avatar Aang. Any peace the world has gained is quickly dissolving into a dangerous game of disguise and deception.
The Balance is shifting, and the last hope to maintain harmony is to discover the true enemy and stop them -before it's too late.
I will be posting a new chapter every Tuesday, so please stop by!
This isn't so much a one-shot, as a song parody. It's fun and I enjoyed it.
Something in me wants to try my hand at a short fanon. Something about dragons. And arranged marriages.
That cinches it. Eventually, I'll have to write this. After Air. :P
I'm happy to announce I'm participating in this up-and-coming crossover fanon. I will be contributing my character Princess Ursa II into the stalwart cast.
Writing and Other Stuff
Edit
"The difference between the almost right word & the right word is really a large matter--it's the difference between the lightning bug and the lightning."
— Mark Twain
Writing this fanon is a source of pure enjoyment for me and I love hanging out with all you fellow Avatards. But writing is really what I do.
If you like my style, or you just like me, you can also find me on...
Figment.com, where I've posted several pieces of my original work
Tumblr, my blog 'path of a wordbender'
Shippings
Edit
I support:
Maiko, because they are both awesome and obviously belong together. Maiko rules!
Zhaozhao, because Firebender896 is right; he is incredibly narcissistic. ;)
If I revealed any more, however, it might give away some of my own story.
As to the other shippings, I basically go along with anything Bryke does, haha.
| | |
| --- | --- |
| | This user supports Maiko because she doesn't hate it ;). |
| | |
| --- | --- |
| | This user loves Bumi because she shares his sense of humor. |
| | |
| --- | --- |
| | This user thinks Haru 's mustache is epic. |
| | |
| --- | --- |
| | This user has an outlandish theory about what happened to Ursa . |
| | |
| --- | --- |
| | This user likes Sokka because, though he hasn't quite mastered swordbending, he could be considered the world's first word bender. |
| | |
| --- | --- |
| | This user wants Koh to be in more episodes. |
| | |
| --- | --- |
| | This user 's favorite character is Zuko because he is awesome and through intense, extensive character development becomes even more awesome. |
| | |
| --- | --- |
| | This user claims Uncle rights on Iroh . |
| | |
| --- | --- |
| | This user thinks Mai is awesome. |
| | |
| --- | --- |
| | This user likes Toph because she's got attitude. |
| | |
| --- | --- |
| | This user was disappointed, but understanding, that Lee never reappeared. |
| | |
| --- | --- |
| | This user first realized the true epicness of Avatar when she saw "The Storm" . |
| | |
| --- | --- |
| | This user is obsessed with "Zuko Alone" , but only a little. |
Favorite Characters
Edit
A:TLA
Zuko
Mai
Toph
Sokka
Iroh
Bumi!
LoK
Tenzin
Lin Bei Fong
Iroh II
Bumi
Fanons I'm Reading/Want to Read
Edit
Reading:
Future reads:
Finished:
Read a really good one? I love recommendations!