"Now I hope that each of you can see that each element has its own strengths and weaknesses... But fire is the BEST!"
— Iroh
"The only thing we have to fear is FEAR itself."
— Franklin Delano Roosevelt
"No! I will never, ever, turn my back on people who need me!"
— Katara in The Painted Lady
"Knowledge is priceless."
— Professor Zei
"I am currently wetting my pants."
— Shiro Shinobi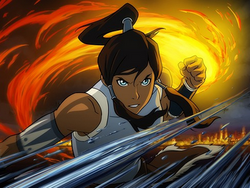 Wangfire94
Biographical information
| | |
| --- | --- |
| Alternative name(s) | Wangfire |
| | |
| --- | --- |
| Language(s) | English, Spanish |
Physical description
Personal information
Chronological and political information
| | |
| --- | --- |
| Actual profession | Student (College Freshmen to be specific) |
| | |
| --- | --- |
| Other wiki(s) | Young Justice |

Welcome strangers!
I have been an A:TLA fan since it first came out and it stuck to me. I was at my friend's house and we were just watching TV and we saw the first episode. My reaction was Some boy in an iceberg, sounds boring. Might as well watch it since there's nothing else on TV. It was the complete opposite of boring and I watched it to the very end with a group of my friends. Yes, I do like the Legend of Korra or else I wouldn't be here. Right now, I am doing edits, so people can have an easy time reading and learning new info. If I say something hurtful, insultive, or something with sarcasm, I apologize in advance.
Favorites
Edit
Shipping: To be honest, I never shipped; I watch this series for the action. It's a big surprise that I'm shipping now. I'm a fan of borra and korrasami, but like I said, I watch the series for the action, so I'm ok with whatever happens.

Shows: I love all the shows but if I had to choose, here are my top 5 from A:TLA:
1. Sozin's Comet: Avatar Aang
2. The Southern Raiders
3. The Storm
4. The Headband
5. Zuko Alone

Characters: one of my favorite characters is Azula (that is, before she went crazy). She is clever, amazing, and is a true firebending prodigy. Zuko would be my second, along with Iroh. Zuko has shown so much growth in the series and Iroh has helped along the way. I love Sokka's sarcasm (or Sokkasm). In LOK,I like Bolin and Lin. I love Bolin's personality, his sense of humor, and he's so kind. Lin is a great character and she is a true legend.
Elements: My favorite element is firebending. It's like a like a little heartbeat. :)
I

Support — Ikki's and Jinora's love advice. Never underestimate the power of a love potion. Burning a country always works.
Fanons/Fanfic
Edit
A fanfic I've been reading lately is by the amazing writer Avatress0. You should read all her stories, their incredible. If you want to read her fanons here is the link:http://www.fanfiction.net/u/783429/Fire_Bender
I've also been reading Fanon:Heiress of the Nile by Lady Lostris. Great fanon, love the action.
I'm reading A Hundred Years After the War by originalavatarnerdling.
If you want to be allies with me, feel free to add a message on my wall. I'll be happy to be anyone's allies. ;)
Userboxes
Edit
| | |
| --- | --- |
| | This user was a winner of a Cabbagie Award in 2012. |
| | |
| --- | --- |
| | This user likes Azula before she went crazy. |
| | |
| --- | --- |
| | This user thinks Zuko showed a lot of growth in the series. |
| | |
| --- | --- |
| | This user likes Iroh because he is a kind and wise person. |
| | |
| --- | --- |
| | This user thinks Katara is a great waterbender and is super caring. |
| | |
| --- | --- |
| | This user thinks Korra will be a great avatar. |
| | |
| --- | --- |
| | This user misses Sokka 's sarcasm. |
| | |
| --- | --- |
| | This user likes Bolin because he's so nice. |
| | |
| --- | --- |
| | This user admires Toph because of her personality. Also because she's amazing. |
| | |
| --- | --- |
| | This user likes firebending because although every element has it's own strengths and weaknesses, fire is the Best!. |
| | |
| --- | --- |
| | This user loves Lin because she is an amazing person who can kick butt and would do anything to protect the people she loves. |
| | |
| --- | --- |
| | This user is a member of the Anti-Troll Scarf Army. |